If you've been involved in woodworking for a while, then you already know the many benefits of using a router.
From decorative trimming, dovetail joinery, dadoes, slotting to more functional and subtle cuts, a router can really help you step up your woodworking game. Router tables take that a step further by offering higher stability. In recent years, they've gotten a boost in the industry, offering a host of new features and benefits.
So what do the best router tables look like? To answer that question, today, we've rounded up 10 of our top picks, along with a comprehensive buying guide. There's a lot to love about router tables, and we can't wait to show you. So let's get started!
| | | | |
| --- | --- | --- | --- |
| | Bosch RA1181 Benchtop Router Table | | |
| | Dremel 231 Shaper/Router Table | | |
| | Bench Dog Tools 40-102 ProMax Cast Iron | | |
| | Craftsman Router and Router Table Combo | | |
| | Kreg PRS1045 Router Table | | |
Our Best Router Table Reviews
Now without further ado, it's time to get into our reviews. We've spent hours analyzing and researching this list, so relax: you're in good hands!
1. Bosch RA1181 Benchtop Router Table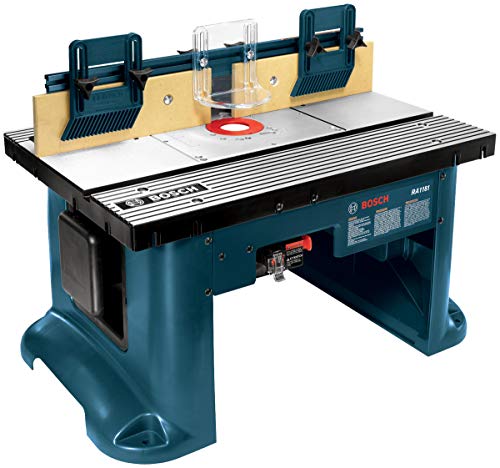 We're starting our list of router table reviews with one from a brand whose name usually needs no introduction: Bosch. They never disappoint, and here's how they prove it in the case of this professional router table.
Let's start with the construction of the thing. It's built to be lightweight and compact (as far as router tables go) but at the same time is highly robust thanks to the high-quality aluminum mounting plate and table design.
Our favorite thing about this router table is undoubtedly the added feather boards. Not only does it enable the user to cut multiple boards by providing added guidance, but it also reduces the possibility of kickback. Plus, the additional accessory slot also allows you to insert other implements, such as a miter gauge.
This table is a great choice for those who don't have a lot of space in their workshop, as it's on the smaller side. Despite that, they are a host of great features, such as a storage pocket for accessories, a port for dust collecting, and a power-cord lock.
Furthermore, because this table is compatible with the majority of workbench styles out there, don't worry if you don't already have space for a complete cabinet router.
It is worth noting, however, that the table has plastic legs instead of metal ones. This may sometimes cause instability or precision, but it ultimately depends on how you set up your workshop!
2½-inch dust collection receptacle for cleaner operation

Features fully adjustable featherboards for enhanced efficiency

Convenient multi-use accessory slot

High-quality aluminum mounting plate

Extra tall aluminum fence increases versatility
The folding legs might interfere with the table's stability

Plastic legs might cause bumpy routing
2. Dremel 231 Shaper/Router Table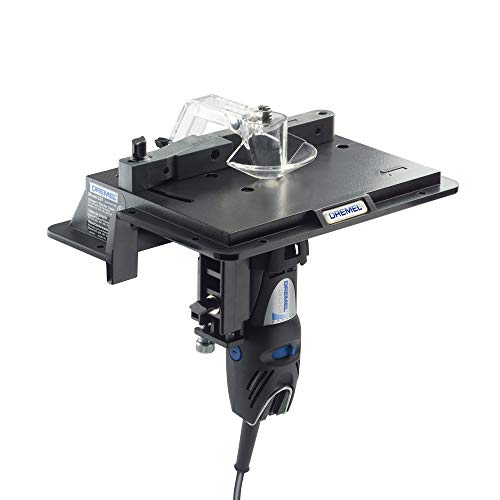 Stepping away from the greats for a little, we now turn to a less-popular, but still a highly reliable brand, Dremel. This router table is specially selected for those of you reading this article who are on a budget but don't want to compromise on quality and performance.
Although this table has been made primarily for use with Dremel rotary tools, it still accepts the majority of routers, and it does so very nicely. The entire set-up can be attached to your workspace in just a few quick motions, where it will sit flush with the surface every time thanks to the thing's adjustability.
You'll love the spacious and sturdily constructed 8×6 inches surface, along with the fully adjustable fence. We're also a big fan of the construction quality; despite the low price you're paying for this thing, you'll never doubt for a second about its build quality.
With this thing, you can perform a wide range of routing operations, be it trimming, sanding edges, grooving, or slotting. And if you're looking for more woodworking devices or machinery that won't burn a hole in your wallet, then why not consider other compatible Dremel implements?
Because of the size of the thing, however, it can sometimes be difficult to operate smoothly, especially when you're switching out certain parts. However, given the overall versatility of the product, especially in the context of its price, we barely consider this to be a setback.
Extremely lightweight; compatible with most workspaces

Features a large and stable 8 inches by 6 inches surface

Purchase includes an adjustable fence for more efficient operation

Has a host of highly functional features despite being very affordable
Might not be compatible with some router models

The small size can get in the way of some operations
3. Bench Dog Tools 40-102 ProMax Cast Iron Router Table Extension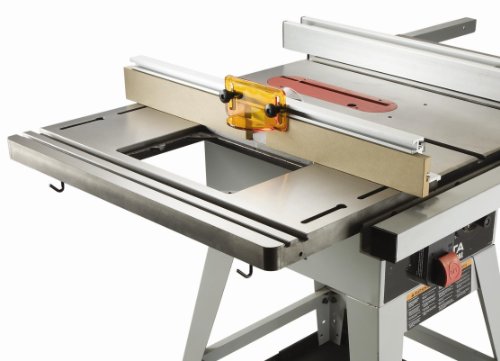 You might think that the only professional router tables worth buying are those from brands whose names everyone recognizes at the first mention. And maybe you wouldn't be wrong in some cases, but this extension router tabletop proves that idea wrong.
Intended to be an extension for a table saw, the ProMAX is built for reliable performance and stability. It is constructed for durability and designed to fit all contractor-grade table saws.
Let's have a look at some features. The double fence slots are configured in such a way that you can effortlessly rotate the fence when required. This allows you to operate the router with a larger workspace even from the other side of the table. So if you're ever in need of a bit of extra workspace, not to worry!
The included ProFence is definitely also one of the most appealing things about this router table extension. Made from premium quality aluminum, you can tell that it's made for heavy-duty applications. And because it's fully machined on both the bottom and front surfaces, the ProFence always sits true and flush with the table.
Speaking of fences, this product does also come with sub-fences. With an MDF construction, these sub-fences can be adjusted without the help of tools, facilitating a zero-clearance set-up.
Yes, it's true that this is one of the less affordable items on our list. When you consider the host of amazing features and high-quality construction of the machine, however, it definitely makes sense to invest!
Comes with an easily detachable ProFence

Features a 1/4 inch T-slot for additional accessories

Included MDF sub-fences have tool-free adjustability

Effortlessly fits the vast majority of table saws

Purchase includes router top and mounting hardware

The ProFence includes a dust collection port and heavy-duty bit guard
Some users report that the ProFence isn't straight
4. Craftsman Router and Router Table Combo
This next router is from Craftsman, and while it's not the most impressive router table out there, it's definitely worth your time if you're on a budget and are looking to buy your router and router table in one go.
Despite its primarily plastic construction and low price point, this router and table combo has an impressive range of functional features.
The user-friendly design is bound to catch your attention, while the 1 3/4 HP motor ensures that you can work with some of the toughest hardwoods. You can also adjust the cutting depth with ease to even the lowest of micro-fine levels.
We also greatly appreciate the fact that the jointing fence can be set up to 9/16 inches, while the miter-gauge can be adjusted up to 60 degrees in either direction.
Your purchase will include a fence (adjustable, of course), two feather boards, a dust guard, a miter-gauge, and insert rings. While these are pretty much all the implements one needs to efficiently carry out their routing operations, it's worth noting that the quality of the items might be disappointing to some.
We won't say that this is the best router and table combo out there, but we do think that it's worth your consideration if you're on a budget or don't require a very heavy-duty router just yet. In fact, if you're a beginner, then we suggest starting with this product to get a feel of the overall routing process.
Ideal for beginners with little experience of routing

Allows for extremely easy assembly for quick operation

Router bit height is easily adjustable for added convenience

Incorporates a safety lock for added security
Some of the parts may become unusable over time

The construction of the table isn't very durable
5. Kreg PRS1045 Router Table
Before you continue reading, be warned that this is one of the most expensive router tables on our list. So if you're on a budget, then consider skipping the following review.
If you're not on a budget, however, then we have great news for you because this product from Kreg comes close to fitting the title of the best router table.
Why? First of all, we love its size. It's big enough that it can get away with having a large tabletop, but at the same time, it's built to fit the majority of medium-sized workshops. We're a big fan of the micro-adjustable fence, and if you're a perfectionist when it comes to woodworking, then you will be, too.
The durable stainless steel stand that this router table sits on is highly adjustable between 31″ and 39″ meaning that it is suited to users of all heights. Furthermore, the insert-plate system is made for reliable precision, while the fence is self-squaring and multi-purpose for all your woodworking needs.
Yes, it's expensive, but not only does this thing come with all the features one could possibly require for efficient routing, but it's also of extremely high quality, and compatible with a large number of existing routers.
Do note, however, that few users have reported about some warping of up to 1/16" in either direction for the inserts. If you face this issue, you can always opt to buy aftermarket inserts.
Large and convenient MDF tabletop for functionality and efficiency

Features micro-dot skin that allows for easy sliding of workpieces

Extremely easy to assemble despite having a sophisticated design

The fence is adjustable to micro levels for reliable guidance

Constructed from sturdy and durable metal for increased stability
Less affordable than other similar tables

The lockdown mechanism is somewhat ineffectual
6. Skil RAS900 Router Table
This next router table is selected by us for its impressive range of features at a nearly unbelievable price. Plus, not only is it one of the more affordable router tables on our list, but also one of the most highly rated. There's a lot to love about this router table; let's find out why.
To start off, let's talk about the performance levels you can expect from this thing. With your purchase, you're not just getting the router table, but also bit inserts, and a miter-gauge. The fence is adequately tall, and the MDF faces are laminated and also fully adjustable.
As you already know, the precision of the essence while doing routing operations – Skil has kept that in mind by including a guard and starter pin. Furthermore, the bit-height gauge allows for easier set-up and cutting.
With a compact, uncomplicated design, this router table comes with storage space for all your required router table implements. Plus, the router mount is quick-release, meaning easy and quick attachment and detachment. The bit changes are a walk in the park, and you don't have to worry about leveling.
All being said, this router table might not be the most well-suited to professional-grade applications. There are a few inconsistencies in its design, such as the plastic-made end-supports, which can throw you off if you do wood-working professionally.
However, given the range of features, we think this is a router table that would be worth any DIYer's time.
Super easy to assemble thanks to the convenient mounting system

Makes routing curved edges easy with starter pin and guard

Included clamps are of commendable quality

Table legs are foldable for convenience of storage
The wood fence isn't entirely durable

Replacement parts are hard to come by
7. Kreg PRS2100 Bench Top Router Table
The next router table on our list is another high-quality and high-performing one from Kreg. Packed with a number of impressive features such as an industrial-strength fence, this could easily fit the bill of being the best bench top router table.
With sturdy metal construction, this router table offers a generous workspace of 16″x24″. Despite this, it still manages to be compact enough for a DIY workshop. Wherever you put it through, you can expect it to hold its ground, thanks to the sturdy steel stand.
Speaking of the stand, the rubber feet attached to them also enhance the overall stability of the table. Not only that, but they also absorb vibration, which makes for more comfortable working experience.
On that note, the vacuum shroud also deserves a mention; a good-old dust-collecting receptacle is always appreciated, but a table that cleans up its own mess as it goes? Timeless.
We'd like to end by talking about the fence, which is built for industrial-level operation. It comes not only with adjustable faces, but also cam clamps and vertical jointing operations.
You'll also appreciate the full-sized insert place on the adjustable MDF top, along with the 3 included Level-Loc rings and insert plate levelers. Also, with your purchase comes an extruded fence of aluminum.
So as you can see, this router table is for serious woodworkers, considering that the price is extremely reasonable, although it can't be said to be budget-friendly.
The sturdy and durable steel stand adds stability

Tabletop constructed from MDF measures 16″x24″ for extra workspace

The insert location is full-sized with insert plate levelers and 3 rings

Suitable for both industrial and DIY applications

Includes a vacuum shroud for dust maintenance
The insert plate has to be readjusted frequently

The MDF construction is prone to weather damage
8. Goplus Electric Aluminum Router Table
It's easy to buy into the idea that a router table is only as good as its price tag. While not entirely untrue, it is a misleading concept which sidelines great products like the one we're about to review. This is a budget-friendly option that is bound to surprise you and keep reading to find out why.
The main table, measuring 18″x13″, can be enlarged with the help of up to 2 extension tables, measuring 7.8″x13″ each. And with a reliable weight capacity of 44 pounds, it's almost impossible to believe that the whole contraption weighs only 11 pounds. But how does it perform?
This router table is compatible with most routers, offering a base plate with a diameter of 6 inches. The fence has a transparent guard inserted into it to prevent wood chips from escaping.
But we especially love the miter-gauge and the fence. Because the fence not only guides but supports your workpiece, while the miter-gauge greatly facilitates precision for the cleanest, straightest cuts.
The table is durably constructed with an aluminum-alloy body, while the extension table tops are constructed from heavy-duty steel.
And because of its lightweight design, you can expect this thing to fit effortlessly into your workshop. It's also worth mentioning that we quite like the overall look of the machine, painted an attractive navy blue.
However, it's worth noting that the router table is not ideal for heavy-duty or professional operations; if that's what you're searching for, then it's better to invest in a more high-functioning machine.
Main table compatible with large table extensions

Comes with a multi-functioning fence for several operations

Highly efficient and precise miter-gauge

The transparent, retractable guard can be inserted into the fence

Features a dual outlet switch for added convenience
Some users had difficulty aligning the extension tables
9. JESSEM Mast-R-Lift Excel II Included Complete Router Table System
After reviewing a number of commendably designed budget picks, we now bring something for those who are open to invest a bit more for a more high-functioning, heavy-duty router table.
From the first glance, you'll be able to tell that this router table was made for heavy-duty, high-intensity routing operations. With a sturdy and smooth phenolic tabletop, the device also stands out for its extruded aluminum router table fence with adjustable faces.
In fact, the fence is most likely the main selling point of this table top for us. One of the usual pitfalls of buying more affordable router tabletop models is that they tend to include fences of low quality that don't perform dependably; it's worth spending extra for a fence that holds its own.
The stand is durably constructed from heavy-duty steel, and it comes with both lower and upper stretchers to facilitate space adjustments. Also, the T-track and miter track are bound to catch your attention, promising reliable precision and performance.
We also really appreciate the fact that this table is compatible with nearly any router you could throw at it; it's reassuring to know that it doesn't just look good, but also offers tangible performance.
While it's true that this router table is by no means easy on the wallet, it's important to remember that when it comes to power tools, quality and price tend to be directly proportional.
The stand comes with both upper and lower stretchers

Durably constructed stand made from heavy-duty steel

The 32″x24″ workspace is made from durable phenolic

Includes an extruded aluminum miter track and T-track for precision and guidance

The extruded aluminum fence faces are fully adjustable
The customer service might be dissatisfactory

Quite expensive compared to others in its class
10. Grizzly Industrial T10432 Router Table with Stand
Grizzly is a well-loved name in the DIY and construction tools industry, even if it may not be as well-recognized. This router table caught our attention for a number of reasons – let's have a look.
With a surface of 31-7 by 8 inches, you'll have plenty of space to work with most workpieces, while also comfortably fit the machine into your workshop.
As for performance, this router table delivers beautifully. With a mounting table measuring 12″x9″, you can rest assured that no matter what brand your router comes from, it will fit. Plus, the 2 inserts are removable for your convenience.
The surface is sturdy, strong thanks to its MDF core, and added polyethylene edges and melamine laminate. And, the body of the table itself is also extremely durable, with an A-frame design for added stability.
Speaking of convenience, this router table also comes outfitted with a 2 and a 1/2 inch dust collecting receptacle, so you don't have to worry about making a mess.
We'd like to end by talking about the fence, featuring a split design with an MDF core and anodized aluminum mounting bracket. It can also be shimmied for jointing operations, so yes – the manufacturers really have put thought into this thing.
Durably constructed, sturdy metal frame for stability

Comes with a dust collection receptacle for cleanliness

Compatible with all models and brands of routers

Router plate measures 12″x9″ to accommodate the majority of routers

Included fence comes with T-slots for mounting accessories like feather boards

The fence incorporates a measuring tape that can be read from both ends

The fence has an MDF core and a 33-inch aluminum mounting bracket
Some users reported about an uneven working surface

The router table insert is prone to bending
What Makes a Perfect Router Table?
Given the range of options on the market, deciding what the best router table for the money is can be a little confusing. Not to worry: refer below to our router table reviews to find out which factors to keep a lookout for.
Working Surface
For many reasons, this is considered being the most important aspect of a router table. A router table that worth your money is always going to be the one that comes with a flat, stable, and rigid surface. Only with a rigid and flat surface, you can expect precise and dependable routing operations.
Tables constructed from metal are your best bet in terms of surface quality. However, you should note that this makes the table heavier overall, and also calls for a sturdier base.
The alternate option is aluminum, which is not as durable, but still sturdy. It is more mobile due to its relatively lightweight. However, it is easier to scratch the aluminum.
Finally, you can consider wood and plastic surfaces. This kind of table is, undoubtedly, of the lowest quality, but the durability it offers can be surprising. Concerns of warping, though, are very real with plastic or woodwork surfaces.
Overall Quality
The quality of the table will mostly be determined by the materials used in constructing it. Also, considering the design is important too. Usually, the higher the quality of the table, the more it's likely to cost you. Not to worry, though, if you're on a budget: a table that isn't level isn't an insurmountable issue.
Typically, manufacturers will include washers with your purchase, which can be added to lower or raise the table's legs according to your needs. So, check to ensure that your purchase includes these.
A warped table can also pose problems obviously. Unfortunately, in this case, there isn't a lot you can do to fix the situation as a warp can't be leveled out. So ensure that the table you've chosen isn't warped; otherwise, you're just going to have to return it.
Compatibility
How useful a router table can be depends on whether it accepts most routers. Each router table is different in its arrangement, suited to different kinds of routers.
While most of the top brands make tables compatible with the majority of routers, some only accommodate routers of the same brand. So if you already have a router, then it's important first to check whether your chosen table is compatible with that router.
Something else to keep in mind is the fact that most companies sometimes make different base plates for the same one table. It's usually possible to swap these out, but sometimes they're fixed in place permanently.
Base Plate Quality
The base plate is an integral part of the router table, as it's what holds the router in place. It's of utmost importance to select a router table with a sturdy base.
A lot of pressure goes into a routing operation; accordingly, the base should be able to offer great stability and protection. It should be strong enough to support your router, so if you have a heavier router, then it only makes sense to buy a table with a sturdier base plate.
Any flaws in the base plate can pose significant issues; for example, if the base plate is warped or bent, it won't sit flush with the table, causing stability problems.
The good news is that the corners of most base plates can be adjusted. If you can afford a higher-end model, you might even get a turntable spring system, which allows effortless adjustability without requiring you to remove the base plate.
Fence
The fence of a router table is basically a straight, thin board that serves the purpose of a guide. It helps you control the positioning of the cut. The vast majority of table routers come with a fence that is adjustable to accommodate various positions and material sizes.
If it's not adjustable, then it's probably not worth it, because an adjustable fence can save you a lot of time and effort. Unfortunately, many companies only provide a low-quality fence with the machine in order to lower its price.
However, buying a table with a high-quality fence isn't the only option; you can also opt to buy an aftermarket fence, which will probably cost you less. In that case, however, you must first ensure that it's compatible with your particular router table model.
Miter Gauge
It isn't that different from a fence and is made to fit into the miter slot, which is usually grooved into the router tabletop. This thing can help you achieve certain angles, facilitating the creation of structural fits and decorative details.
The most important consideration when selecting a router table with a good miter-gauge is to check that the angle markings are accurate. Depending on the needs of your projects, though, you can sometimes skip this step. Alternatively, you can also opt for an aftermarket miter.
Dust Collector
This might not seem like a very big deal, but trust us, it can make a world of difference. If you've done even a little bit of routing, then you'll know that it's a process that produces unbelievable amounts of dust.
That's why we believe that the finest router tables are the ones that come with a built-in dust collector. Not only will it keep your workshop clean, but it also promotes your own good health.
Frequently Asked Questions
1. Why do I Need a Router Table?
The routing process is faster and easier on a router table, especially if you're working with narrow boards. From decorative trimming and dovetail joinery to dadoing, there's a lot you can do.
2. Are Router Tables Universal?
Although many router tables are universal, some certainly aren't. It's, therefore, important to ensure that your router is compatible with the table you're about to purchase.
3. How High Should a Router Table be?
This kind of depends on your height; however, as a general rule of thumb, it should be at a height that allows you to exert pressure without bending too much. For most, this is between 40″ and 49″ inches high.
4. How to Mount a Router to the Table?
First, locate the router's securing points. Now, turn the table on its side, then align the bottom mounting holes with those securing points. The insert plate receives the router using bolts.
5. In which Direction Should I Feed My Stock Into the Router Table?
Always feed the wood boards into the router from right to left. This is of utmost importance to ensure your own security.
Final Words
So that concludes our best router table reviews for you. We hope you found what you're looking for, and if you're still in doubt, why not refer back to our buying guide? Good luck!
Few other Related Router Topic:
Easy way to build router table for plunge router
Which one is better horizontal or vertical router table?
9 types of router table plans to build by yourself