Wood moisture meters are an essential tool if you need to dry wood by yourself. Besides, you may need this for flooring and other tasks that assimilate with wood. But are you struggling to find the perfect one?
Though online shopping is acing the realm of purchasing goods, it is challenging to buy wood moisture meter online. Without having the proper idea of a moisture meter's features, you may get the imperfect one.
This article intends to help you out in making a wise and informed choice to eventually purchasing the best wood moisture meter. Today we will be focusing on moisture meter reviews, which we wrote just for you.
Let's get into it!
| | | | |
| --- | --- | --- | --- |
| | General Tools MMD4E Digital Moisture Meter | | |
| | Tavool Digital Moisture Detector Moisture Tester | | |
| | Dr.Meter Digital Portable | | |
| | SAM-PRO Dual Moisture Meter | | |
| | Klein Tools Wood Moisture Meter | | |
How a Wood Moisture Detector Works?
Your efficient work may go in vain if you do not consider the moisture content of the wood. For professional woodworks, pin-type moisture meter has emerged.
A pin moisture meter works by indirectly measuring the electrical resistance with an electrical current. It goes from one pin to another. In the presence of moisture in wood, the flow of electricity becomes quick. Teflon-insulated measuring pin is necessary to measure the moisture.
Pin meter measures moisture as far as the pin can be inserted. Thus, it is better to select a longer pin so that it can reach the other end of the wood. The resistance measuring unit is ohms. Later, it is converted to the reading of X% moisture content.
The best feature of a moist pin meter is that it can identify the location of moisture. Try to drive the pin in several depths to read the moist level of specific insertion areas. They even work well on the uneven surfaces.
To achieve accuracy, keep the pin aligned with the wood. If your pin is not insulated, the wood surface should be dry. Avoid using old holes for repeated measuring because they can display a lower value of moisture.
However, pinless meters use electromagnetic radio waves. This type of meter has a scanning plate; the radio waves scan the wood sample.
They are often called non-invasive moisture meter. The reason for such a name is that they do not require to be driven into the wood surface physically for measuring moisture content.
Our Best Wood Moisture Meter Reviews
Here you go with our in-depth reviews of the top 10 moisture meters for wood. We believe these reviews will be helpful enough to make your decision smarter and more comfortable to buy the perfect moisture meter.
1. General Tools MMD4E Digital Moisture Meter For for Woodworking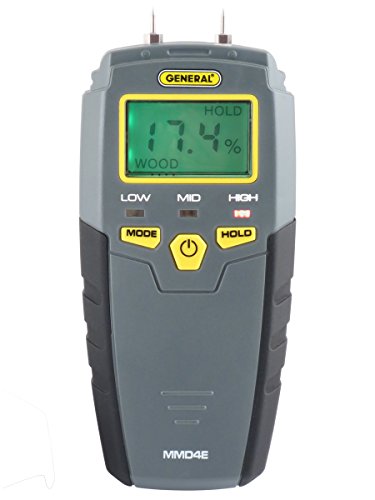 Check Current Price
This pin-type digital moisture meter determines moisture level or dampness in not only wood but in walls, carpets, and even in firewood. Wet weather causes dampness that helps to breed mold growth. So it is essential to know the moisture level before you use a piece of wood in our house.
It can also detect a water leak that eventually helps in house restoration or inspection. Moreover, it detects roof leakage and guarantees firewood to burn. You will also get to know the dryness level of wood before you paint or seal it.
The meter has a rubber grip that is sturdy and ergonomically shaped. Thus, while using for several measurements, you will feel comfortable holding it. To pause the reading, it features a hold function so that you can read it later, as well.
And this product also features an auto power-off system that shuts the meter down after being inactive for 3 minutes. There is an indicator of the low battery too. The measurement range of this tool is 5-50% for wood. Whereas, for building materials, the range is 1.5- 33%.
You will get an immediate alert of the wood content: high, low, or medium moisture with the color of green, red, and yellow, respectively. The display is backlit LED, and the digits (0.3in large) are so easy to read. It even features audible alerts; if you are in darkness, you hear the reading.
As for extras, you will find stainless pins, which are 8mm, a protective cap, and a 9V battery. The protective cap elevates the calibration checker.
Great value for money

Locates mold growth

Features calibration check

Includes protective cap
Reading may not be extremely accurate
Sale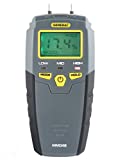 General Tools MMD4E Digital Moisture Meter, Water Leak Detector, Moisture Tester, Pin Type, Backlit…
HUMIDITY SENSOR: Our handy meter tool can quickly determine what level of remediation is needed to keep…
WATER LEAK DETECTOR: Finding the moisture content in your wood or drywall is the first step in early…
MOISTURE READER: The mold test features large 0.3″ high digits in a backlit LCD for quick and easy…
MOLD TESTER: For an accurate test read, stick the stainless steel pins into the surface of what you're…
---
2. Tavool Digital Moisture Detector | Best Moisture Meter for Wood Slabs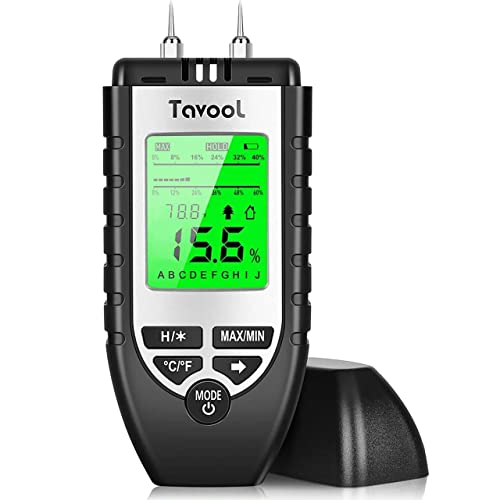 Check Current Price
If you are looking for an accurate result of the dampness of the wood, then go for this tester. This tester is a pin-type detector to detect moisture in the material. Traditionally, they have two pins that can be inserted properly to know the level of dampness.
The pins are made of stainless steel material. They can be used on any type of wood building materials or paper floor, furniture, cabinets, window frames, etc. With this tester, you can easily determine the location of the damp that is created.
These can be used by lumber suppliers, manufacturers, inspectors, or flooring workers. With percentage count, you can understand the level of moisture. Low is 5-12%, medium content is 12-17%, and high is 17-60%. You can easily avoid purchasing high-priced wood materials by checking with this tester.
Also, it helps you to avoid any breakage or warping of expensive hardwoods. You will be happy to know that these are quite user-friendly. Not only this, but these can be easily understood by anyone who uses it for the first time.
They are made of a big, clear LED display in addition to a backlit. These are also manufactured with freezing key readings. When not in use, it automatically switches off the power within 10 minutes. The functions it uses are Max/Min function, Memory function, C/F display.
It is quite comfortable to use because of its grips that are made of rubber. And the shape is also handy to use, so it doesn't fall or slip out of your hand while working. They are specially designed for building construction, woodworking projects, or flooring work.
For making your work much easier, Tavool is a great tool for you. Well, the measurement range of this device is 6%-60% for wooden materials and 0.2%-2.9% for building materials.
Nicely designed

Instructions are clear

Simple to use

Works on any type of building material
Sale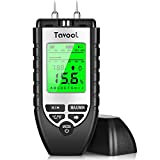 Wood Moisture Meter – Digital Moisture Detector Moisture Tester, Pin-Type Water Leak Detector Damp…
【ACCURATE & QUICK MEASURING】- FIND HIDDEN WATER LEAKS IN WALLS AND SURFACES. Designed with 2 high…
【PROFESSIONAL DEVICE FOR WOOD MEASURING】- 8 CALIBRATION SCALES, FIND OUT THE %MC OF MANY DIFFERENT…
【USER FRIENDLY, SIMPLE TO UNDERSTAND】- EASY TO USE,BIG LED DISPLAY with BACKLIT, HOLD FUNCTION. Our…
【TWO MEASURING MODE】- DESIGNED WITH WOOD and BUILDING MATERIAL TO MEET ALL YOUR NEEDS. Tavool…
---
3. Dr.Meter Digital Portable Moisture Tester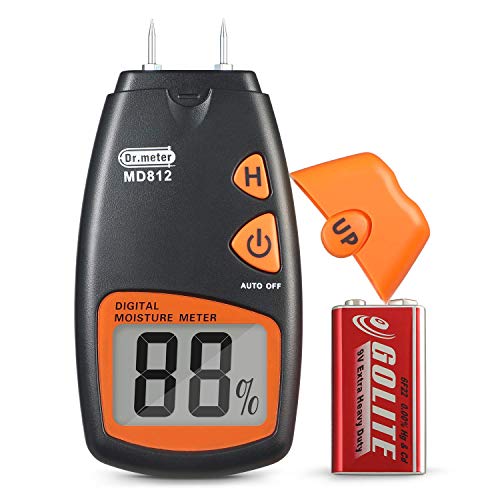 Check Current Price
Worried about where is the location of the water leak that is destroying your home walls? Don't worry, take a look at the review of this moisture detector. They are highly applicable for tracing the invisible leakages.
This is a good product for inspecting home furnishings, roofs, walls, carpets, or any dry wood pieces. The testing range of this device is 5%-40%. You are surely going to get 1% accuracy too.
For recalling the previous measurements, these hold data in their memory. Most of the products are neglected because of the high chances of pins breaking out. That is why this model comes with extra pins so that your work doesn't slow down. If in case your pins break, you can easily use these extra pins.
Interestingly, these include a battery with 9 volts power. Besides this, they include a big LCD screen for better display for user's convenience. It has a compatible size for holding under the fist of your hand. And it can also be squeezed into small or narrow spaces.
It is highly recommended for the users to check whether the lumber is in good condition or not. Detect the wood, whether it is waterlogged or not, with this moisture meter before working on it. This is to avoid the breakdown of your material while working on it.
Hence, if you are searching for a product that gives you an accurate result with better reading, then Dr. Meter is suitable for you and your application.
Lightweight and small in size

Easy carrying and operating

Well-priced

Easy readings
Calibration and recalibration is not possible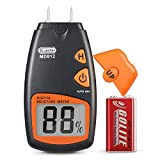 Wood Moisture Meter, Dr.meter Digital Portable Firewood Wall Paper Water Moisture Tester, Digital…
【Precise Measuring, Wide Range】Get an accurate reading, every time. With a measuring range of 5% -…
【Includes Spare Pins】Don't let a broken pin slow you down. Always have a reliable and working meter…
【Easy-Read LCD】Thanks to the large LCD screen, the Dr. Meter Wood Moisture Meter will keep you in the…
【Detect Waterlogged Wood】If you're buying lumber, you need to be sure the materials are in good…
---
4. SAM-PRO Dual Moisture Meter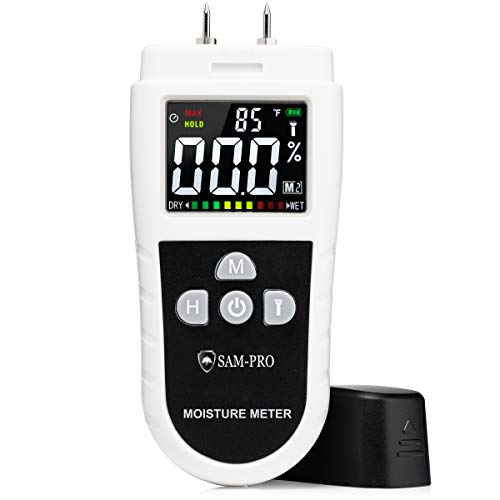 Check Current Price
Are you sure your firewood is ready to burn for cooking up delicious steaks, roasts, etc. If not, check out the material with this moisture detector! This model is a dual meter for inspecting dampness and temperature in the lumber.
This device is quick in its testing of dampness in any concrete, wood, drywall, or any other building materials. The percentage of the content for low is 5-11%. And for medium and high it is 12-15% and 14-50% respectively.
Also, this detector model consists of a large LCD display with backlit for easy readings. The pins are steel-made pins for easy penetration into the material. Additionally, they include functions like Min, Max, Scan, and Hold. This does not end here; they also include a battery of 9 volts.
There is a set of replacement probes included too. This device comes with many features. It helps to avoid damaging the materials by checking for any water leakage, mold risks, etc. Interestingly, this tool also comprises an air temperature detector.
The outer surface of this device is made of a nylon case for ensuring durability. For avoiding further damage, they are also packaged with a strong case. They come with four different modes which can be changed easily. The LCD screen is very bright with the backlight.
Moreover, this device also consists of an automatic power-off feature. Thus, the bottom line is that this tool is highly applicable for home checking of moisture or mold risks.
Because the backlight helps to test the other side of the wooden piece or any other material at your home, the lid of this device is well fit enough to prevent any destruction to the pins or the equipment.
Good for the price

Adjustable with several materials

Readings are quite consistent

Auto power on-off feature
Unable to clear the memory quickly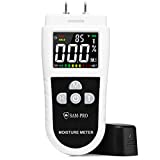 SAM-PRO Dual Moisture Meter 2.0: Upgraded LCD Color Display & Flashlight – 4 Smart Material Modes…
Professional Grade – Large easy-to-read color LCD screen with new LCD flashlight function for readings…
4 Material Type Modes – Quickly find Moisture & Temperature readings in over 100 Materials; including…
High/ Low Moisture Reading Bar: Easily read what is a high or low reading for the material you are…
Check Lumber and Hardwood for Building and Woodworking – Make sure you are using good, dry wood for all…
---
5. GoerTek Meter For Wood Moisture Testing
The measurement range of this wood moisture meter is from 0-80%, wherein the accuracy rate is +/- 2%, and the resolution is 0.10%. For this meter, eight material types have been selected, such as wood species, cement or lime mortar, perovskite, bricks, etc. Its operating temperature is 0-40 degree centigrade.
Speaking about preciseness, the results are high with this tester. In addition to the features of this detector, they consist of an HD Digital LCD display for clear readings of the measurement. Furthermore, the data can be retained with the hold key.
You will be happy to know that this tester also has a protective pin cover. The case at the outer side is made of silicone for probe protection. It is designed in such a way to prevent this portable device from any damage or dirt.
Also, this wood moisture tester comes with 3 AAA batteries. You don't have to keep a check on whether the battery is low or not. As because of the low battery indicator, it informs the user when the battery needs to be changed.
Hence, all the craftsmen out there will be glad to know that this wood tester is made DC-resistant. This probe type of tester can be used on various types of products. These may include wooden species like bamboo or paper products or even traditional products.
Operating System is easy

Lightweight and very portable

The backlit display is large

Automatic power off when not in use

Provides precise reading
Requires extra pressure to insert the pins

Cannot penetrate far enough
---
6. Dr. Meter MD918 | Best Pinless Moisture Meter for Wood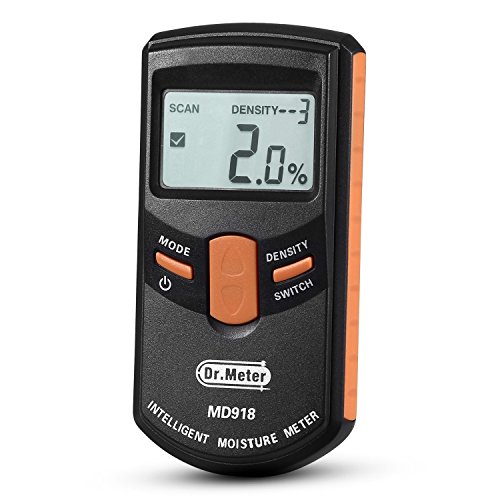 Check Current Price
It is one of the testers that come without pins. That is why it is said to be an upgraded version of a moisture meter. It is an intelligent detector that does not leave any scar of pinholes on the object.
Moreover, it saves you valuable time as it does not need any after-work clean-up hassles. It is because these are intelligently used with HF electromagnetic-wave technology.
Each and every time, they will provide you accurate readings. You will be happy to know that these will work on ten grades of unique timber. These include cotton, wood, tobacco, bamboo, cartons, firewood or any medical material, and so on. 
The maximum percentage of error is only 1% (Rh+0.5). Moreover, the detector is built-in with a temperature compensation feature.
Another feature of this meter is the ultra-large LCD screen. This ensures understandable readings even in the dark areas. Additionally, this device saves power by shutting off automatically when not in use for up to 5 minutes.
Intelligently, this product also lets you know when the upper limit ratio is exceeded over the readings. That means these have a zero calibration and temperature calibration indication for the user's convenience. Not only this, but they also prompt the user if the voltage is running low.
Furthermore, the measurement range of this meter is 4%-80%. The temperature range is 10-60°C, with humidity uphill 70% RH.
Can be used for a wide range of wood species

Very portable

Calibration is much easier

Ultra-large display
Repetitive measurement of different woods
Sale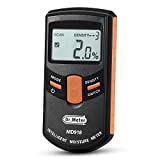 [Pinless Wood Moisture Meter] Dr.meter Upgraded Version Inductive Pinless Tools Intelligent Moisture…
▶ 【Non-invasive and Non-marring】Get an accurate reading without making hole in furniture or other…
▶ 【High Precision, Wide Compatibility】Get exactly the reading you need, every time. Do you have…
▶ 【Temperature Compensation】MD918 meter has a temperature compensation function that keeps the…
▶ 【Power Saving】If you're not using the reader, its intelligent auto-off function will shut off the…
---
7. Stihl Wood Moisture Tester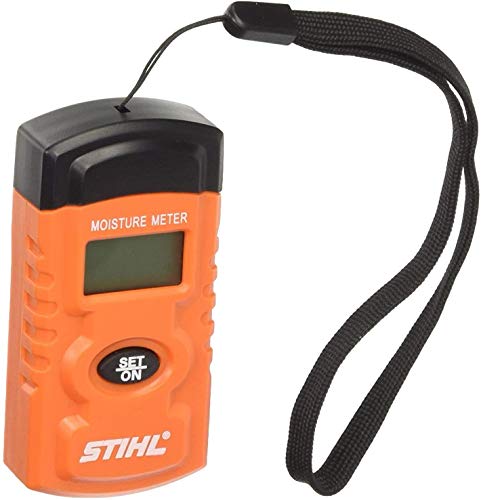 Check Current Price
Since it is winter time now, don't you want to feel warm by firing up a few logs? But for that, the logs must be dry enough to prevent creosote build-up and to ensure effective burning too. To be sure whether the firewood is well seasoned or not, we bring you Stihl meter reviews.
This meter offers an accurate reading and helps in detecting the dampness in the material. They are built-in to be capable of inspecting paper or cardboard materials as well. Moreover, they also detect moisture content in concrete as well as plaster. Hence, it is said to be an all-rounder moisture meter.
The metering device consists of two stainless steel pins. Along with a large display, it makes it easy for the user to read the results clearly. In addition to this, they are built with a thermometer beneath to give a temperature reading of the area.
Furthermore, this product is versatile and perfectly sized for the user's convenience. They are quite compact and can easily fit under one's hand. The pins of this tool are quite strong and sturdy, and so it won't break off easily. Besides this, the pins are so durable that it won't have to be replaced frequently.
Additionally, the feature of auto switch-off and backlight is also present with this meter. The backlight is a very handy feature for reading at night time or in any dark place. Also, it switches off automatically when not in use to save battery life. The measuring range of this meter for wood is 6-42%.
And the accuracy percentage is said to be 2%. This meter weighs about 50 grams. They come with a battery too. The bright orange color of this moisture meter is an eye-catcher, and so you can locate it easily whenever you need it.
These also don't lack a protective cap to avoid any damage or blemish on the tool. Therefore, this meter is highly recommended for testing wood species. Although they can detect other materials too, it is best for firewood.
Simple to use

Ideal size

Includes protective cap
Doesn't come with extra pins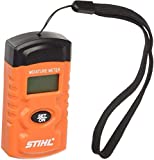 Stihl Wood Digital Moisture Meter
LCD Display
Genuine Quality Product
Incl. Batteries and User manual
Measuring range: Wood 6-42%
---
8. Proster Handheld Wood Moisture Test Device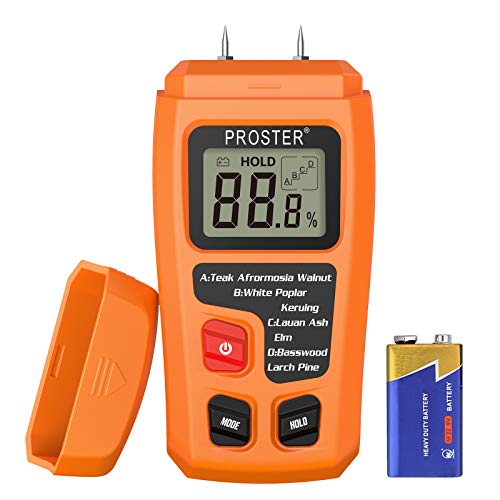 Check Current Price
The exact measurement range of this meter model is of 0-99.9%, with the accuracy range less than +/-0.5%. It boasts the highest accuracy level among the best wood moisture meters. Hence, you'll find it highly applicable to firewood, wood, cardboard paper, logs, concrete materials, etc.
Manufacturers used sensitive electrodes to make the pins of this device. So, these good on walls like plaster walls, brick walls or lime walls, and so on.
This Proster unit comes with four different modes accordingly for four groups of wood. You can easily swap up to any four of the mode that includes 50 wood species.
With a wide LCD, wood moisture measurements are easily readable. You will be amazed to know it has an electric resistance as well.
Besides this, automatic power-off shuts off the device after 15 minutes of no use. This helps in saving the life of the battery. The package also includes an extra battery of 9 volts for replacement.
Additionally, you get to when the device is low on battery. They are well designed in the ergonomic structure to ensure great feeling while holding it. Moreover, the material is made up of ABS plastic to ensure great durability.
Sometimes it is inevitable that you might erase out the readings displayed over the screen. For that reason, manufacturers made it easy to retain the measurement results with the data-hold function feature. For further protection of the device, a protective cap, and a case is included along with this product.
Well, if you are looking for a tester that gives you accurate results with multiple wood group memories, this tester brand is suitable for you and your particular material.
Fairly priced

Very durable

Includes protective cap

Good accuracy
Not good on household materials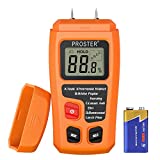 Proster Wood Moisture Meter – Digital Moisture Detector Moisture Tester, Pin-Type Water Leak…
【Wide Use】 This Digital Moisture Meter is perfect for wood, firewood, logs, cardboard, paper and so…
【High Accurate Measure】 Measuring wood by sensitive electrode pins at the range of 0-99.9% and…
【4 Modes】 You can switch different modes according to 4 wood groups, including approximately 50…
【Convenient Design】 Large HD LCD with Data Hold function to show measure results; Auto power off to…
---
9 Lignomat Moisture Meter for Wood Flooring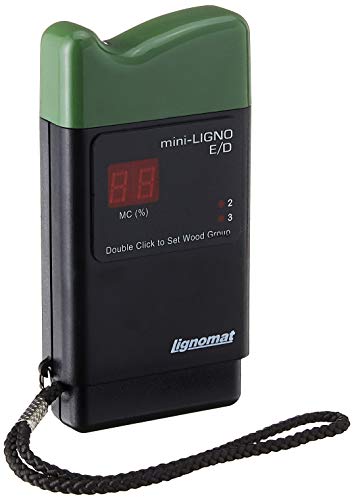 Check Current Price
If you wish to work on flooring or cabinet making, then this Mini-Ligno will be a suitable selection. It is because they offer a wide measurement range.
These can easily test over pallets, firewood, construction lumber, and so on. They are specially manufactured for two wood groups that are hardwood and softwood.
This moisture meter is designed with some advanced measuring technology. It offers valid and accurate measurements. The measuring range of this instrument is 6-45%. These are quite sturdy in nature and also can be used easily.
Like all other moisture meters, these also possess an LED display that is indestructible and brighter. The display is bright enough to read even in dark spaces.
Interestingly, this product is tested and has an approval seal for its quality. These weigh 8 ounces and are made of high-quality plastic.
Additionally, they are made of a pocket-size of 70x140x25mm. This makes it comfortable to fit in your hand while measuring.
You will be happy to know that this detector also has a wrist strap to keep it safe with you. In addition to this, they have a green cap that works as a handle to insert the pins easily.
This cap also prevents the pins from getting damaged during transportation.
Moreover, this meter also consists of two pins, and their measuring depth is of 3/16" and 7/16″. The most important feature of this meter is its built-in calibration feature. Calibration can be easily checked internally and externally and is adjustable too.
The calibration for wood temperature is 70°F(20°F). All the other wood temperatures are listed in the manual included with the device.
Includes pins and battery

Reliable product

Easy to use

Easily portable

Stable calibration
Probes leave the mark of holes after penetration

Battery is weak
Sale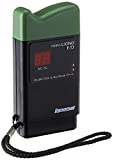 mini-Ligno E/D moisture meter pin type moisture meter. Accurate, reliable, versatile and affordable…
wood moisture range: 6-45%
2 wood groups for softwood and hardwood
measuring depth of 3/16″ and 7/16″
accurate, reliable, versatile and affordable
---
10. Extech MO50 Compact Pin Moisture Meter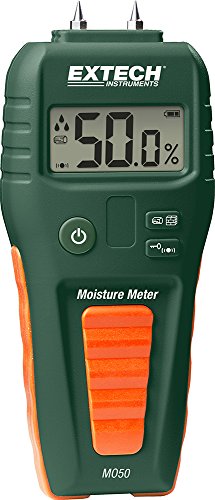 Check Current Price
The Extech pin moisture meter is yet another pin-type meter that comes with advanced measurement technology. It is a compact meter suitable for use with materials like cardboard, plaster, concrete, sheetrock, and wood, of course.
Here, the wood moisture ranges from 5 to 50% whilst the building material ranges from 1.5-33%.
You will be glad to know that it contains displayable icons for low, medium, and high degrees of moisture. That means you can easily check whether the content of the moisture has dropped or not. 
It consists of two pins that are made of electrode prongs. The prongs need to be contacted with the material tested, which is why it is called a contact-type meter.
Other additional features include the data-hold feature that enables to freeze the last taken data. Interestingly, it has the feature of the audible alert tone. When the levels of moisture rise, the frequency of the tone increases.
When the instrument is not in use for more than five minutes, it turns off automatically to save battery life.
Hence the bottom line is that this device is a versatile moisture meter. It has a double system of indicators, which makes it user-friendly. Hereafter, this meter is quite a suitable one for many handymen here!
Has a battery status icon

Lightweight

Compact in size

Cap for protection
Sale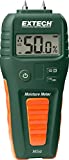 Extech MO50 Compact Pin Moisture Meter
Measure Moisture Level in wood, wall board, sheet rock, cardboard, concrete, plaster, and mortar
Moisture Icons provide a visual reference for low, medium, and high levels of moisture
Audible Alert Tone beeps faster as moisture level increases
Data Hold Function freezes readings on display
---
Best Moisture Meter for Wood Buyer's Guide
It is always good to research well before buying any instrument. The reviews of the best rated moisture meters have been given to help you choose the right one. But to give you further knowledge about this, here are some factors to consider while buying the desired moisture tester.
Pin or Pinless?
Well, this is one of the most confusing factors that baffles the buyers as there are two types of moisture testers that are a pin meter and a pinless meter.
The pin moisture meter has sharp pins that are inserted into the material to test the dampness. These can give the most accurate results. Moreover, the cost of the pin moisture is much lesser than a pinless meter.
Hence, the pins should be correctly plugged into the materials to get an accurate reading. The downside of the moisture meter is that it creates small holes in the material.
It is inevitable that sometimes, you need to measure a material several times that, in turn, creates more holes.
How to choose the suitable nail hole filler?
Whilst a pinless moisture meter is said to be a contactless meter. It can measure just by putting on the surface of the material. The good thing about this meter is that it does not leave any mark on the material.
Moreover, you don't have to worry about the pins to get damaged or replaced. However, these are quite an expensive model. Therefore, both have their own pros and cons. Choose a suitable model according to your preferences.
Accuracy
While talking about the accuracy, many of you might not know which model provides an accurate reading. Well, the truth is that each and every model does not usually provide the actual reading.
Moisture meters that offer accurateness within .1% are the most suitable ones in the market. This level of accuracy undoubtedly will give you a precise reading on a wide range of wood or building materials.
Therefore, it is recommended to buy a moisture meter that provides better accuracy. It might cost you a little more, but what's better than to inspect the actual level of moisture in your material.
Temperature
Some models have the feature to read the temperature, as well. It is another important factor for handymen who dry wood regularly. If you're facing a leakage issue at your home, then you can easily detect it through this feature. You can identify whether it is hot or cold water leakage issue.
Durability
It is not worth it to spend money on a product that does not last for a long period. Obviously, such things cannot be purchased repeatedly. So it is better to check out the durability of the product.
Usually, high-end instruments last for an extended period of time. You can check out the customers' reviews or ask for someone's personal experience with the product before buying.
Screen
This is a smaller aspect to consider while choosing your suitable model, but it isn't insignificant. There are a few advantages to choosing a compatible display of readings.
Firstly, the backlight undoubtedly helps in using the instrument in dark spaces. Secondly, reading is comfortable on bigger screens. This aspect is just a matter of one's preferences. Therefore, choose the one that is comfortable for you and applicable for your work.
Other Features
Most of the products are built-in with some extra features for the user's convenience. These features make it easier for the operator to operate the device properly. And these moisture meters have add-on features like the hold feature, auto power-off, battery indicator, and the protection cap.
The hold feature freezes up the previous data on display. Recording measurements can help in speeding up the work of a handyman. The automatic power-off feature helps in saving the life of the battery.
Almost all the models are built-in with this feature. The device gets switched off automatically when not used for more than 10 minutes.
Moreover, the battery indicator helps in notifying you about the status of the battery. So that you can replace it quickly whenever needed. Some models come with batteries in the package.
Furthermore, the cap protection feature has two uses. Firstly, this cap protects the pins of the meter from any damage during transportation. Secondly, some caps work as a handle for helping in inserting the pins into the material. 
Thus these small aspects can make your work easier and more comfortable. So it is better to choose a model that would provide you with such helpful features.
How to Use a Wood Moisture Meter for Firewood
It is important to know the moisture content of your firewood. Seasoned firewoods are likely to have 20% less moisture. But how can you know the standard level of moisture?
If you bang the two pieces of logs together, you will either hear a ringing or thud sound. And if it is a deep thud, know that it is wet. The ringing sound refers to it as ready to use.
However, to know the accurate or precise moisture level, use a wood moisture meter. Using a moisture meter for firewood is not much troublesome. This device is really affordable and easy to use.
To know the correct moisture reading, both sides of the firewood need to be checked. Due to the wind and sunlight, the outer side of the firewood will be dry. So, you need to check the middle portion of the log.
Split up the wood piece and insert the two pins of a moisture meter. Push it into the split center faces and not into the end grain as the middle part of the wood piece contains most of the moisture. Then press the On button. You will see the reading on display.
And if you want to know the difference of the moisture reading, you can check both ends' moisture levels along with the center part.
Frequently Asked Questions
Here we have some of the most commonly asked queries regarding moisture meters for wood:
1. Do Wood Moisture Meters Provide Accurate Reading?
It can be truly accurate, although it depends on the brand and quality of the device. In low-quality moisture meter, numbers and reading can be misleading. Whereas, a high-grade meter can identify up to 0.1% moisture content.
2. What is the Acceptable or Standard Moisture Level in Wood?
According to the guideline, the standard moisture content for indoor used (flooring) wood is 6-8%, for furniture 6-9%, and for construction, it can be 9-14%.
3. Which Type of Moisture Meter is Better?
It actually depends on your work, the size of the wood you are working with. Pin meter provides a more specific reading.
On the contrary, pinless meters work faster and do not damage the wood piece as they only scan it. You can use both considering your necessity.
4. Does Temperature Affect the Reading Accuracy of Moisture Content?
Yes, but to a very small extent. With the increasing temperature of wood, the electrical resistance decrease. This causes the rise of moisture content. The reading by a pinless meter will not be affected.
5. Why is Wood Moisture Content Important to Consider?
It is important to check because it affects the wood to expand or shrink. The higher the temperature, the more moisture a wood will contain. And so the wood expands. It will shrink if the weather condition becomes opposite. 
Final Words
We hope that we have provided all the related details about the moisture meter. And we have attempted our best to find you the best moisture meter for wood through intensive research.
Feel free to ask any questions, and we will be glad to respond as soon as we can. We appreciate your time for reading us.
You might also like to read:
7 Ways to Identify Whether the Wood is Pressure Treated
How You can Make Spalted Wood?
4 Different Methods to Hard your Wood
How to Preserve Outdoor Wood Furniture?
Key Differences Between Whitewood and Pine
How to Prevent Green Wood from Cracking or Splitting?