Knocking down trees, pruning, bucking, and limbing are heavy-duty tasks. Consequently, you need a sturdy and top-quality chainsaw to get the job done.
Husqvarna or Husky, as I fondly call it, is one of the best chainsaw brands in the market. It is globally renowned for producing a wide selection of top-notch battery-powered, electric-corded, and gas chainsaws.
Are you searching for the best Husqvarna chainsaw?
If you are, this post is for you. Husky has a bewildering thicket of models that vary in their cutting capabilities, sizes, weights, and features.
Our work here is to analyze the 7 top models that have won the hearts of millions of lumberjacks, loggers, and lumberjills the world over. Let's ease the process of finding the right equipment for different applications.
So, without any further delay, let's begin!
| | | | |
| --- | --- | --- | --- |
| | Husqvarna 20 Inch 455 Rancher Gas Chainsaw | | |
| | Husqvarna 24 Inch 460 Rancher Gas Chainsaw | | |
| | Husqvarna 120 Mark II 16 inch Gas Chainsaws | | |
| | Husqvarna 16 Inch 435e II Gas Chainsaw | | |
| | Husqvarna 18 Inch 445 II Gas Chainsaw | | |
Is Husqvarna a Good Chainsaw?
Husqvarna stands as one of the oldest manufacturers of power tools across the globe. Just like a good number of globally renowned companies, Husky, too, emerged from humble beginnings.
This company began in a Swedish town in 1689 and has gradually reached the dizzy heights of international fame for its dedication to manufacturing quality chainsaws.
As a professional logger with extensive experience in using a variety of chainsaws from different brands, I can confidently conclude that Husqvarna is only comparable to brands like Stihl, Craftsman, and Black+Decker.
So, is a Husqvarna chainsaw worth it?
Let's have a look at compelling reasons to consider investing in equipment from the brand.
Controlled Emissions and Energy Efficiency
Professionals highly prefer equipment from Husqvarna because of several key reasons. First, they boast of the X-Torq technology as a standard feature that not only makes them more fuel-efficient but also lowers their exhaust emissions.
A good number of chainsaws from other brands don't match the strict emissions regulations set in various countries. It is hard to go wrong if you settle for any Husqvarna power tool.
Ease of Use
Another major bragging point Husqvarna chainsaws have above their competitors is their ease of use. For instance, gas-powered tools from the brand are designed to make starting a breeze. They feature a choke that makes starting both easy and fast.
Outstanding Performance 
As I mentioned earlier, Husqvarna is a company with decades of experience up its belt. Over the years, the brand has managed to incorporate technology that eliminates or minimizes common chainsaw problems like start-stop, hard starts, no starts, no turnover, and poor engine performance.
Then again, it's hard to deny that tools from the brand are the fastest, most rugged, and powerful. They come with engines of different power outputs, and yet all machines are engineered to deliver adequate power to meet a range of cutting needs.
Safety Features 
Whether you are a veteran or newbie in using chainsaws, one of the most vital aspects that should not escape your mind is the safety features of the equipment you use. Husqvarna chainsaws come with a long list of safety features that are designed to reduce the risk of common chainsaw accidents.
For instance, machines from the brand have the inertia activated chain brake. This is yet another standard feature that reduces the odds of getting injured when kickbacks occur.
7 Best Husqvarna Chainsaw Reviews
If you are searching for unbiased and detailed Husqvarna chainsaw reviews, you are in the right place. Let's take a look around the features, pros, and cons of some of the best models from the brand.
Ready? Let's get started.
1. Husqvarna 20 Inch 455 Rancher Gas Chainsaw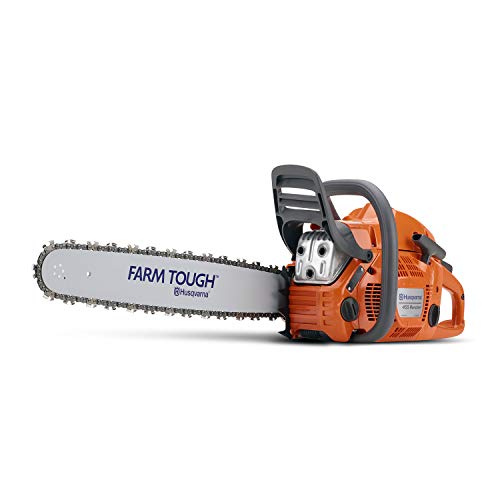 I am all about sharing honest Husqvarna chainsaws reviews. That said, a good number of models from Husqvarna have price tags that can make most folks shy away.
The 455 Rancher, however, is of excellent quality, yet it is also budget-friendly. This is a well-made machine with pro-grade materials, a 5-point anti-vibration feature, and die-cast chassis.
So, what makes this tool qualify for a slot on our review?
The answer is simple. Apart from being cost-effective, this chainsaw is somewhere between a home-use and a professional-grade tool. I like to describe it as a high-end consumer chainsaw. It is engineered to handle just about all home and farm tasks that you throw at it.
I am a landowner and a casual weekend worrier, and this means that a heavy-duty unit capable of taking on a wide array of tasks works for me. This tool is designed to deliver maximum power and just the right kind of comfort to keep you working for hours on end.
The low vibration enhances your safety by minimizing hand fatigue. On the other hand, the X-Torq engine keeps the exhaust to the minimal.
This provides a clean work environment where you don't have to worry about inhaling noxious fumes. Husqvarna's X-Torq engine also ensures that the strict legal standards within most states are met.
Chainsaws are inherently dangerous tools. To better enhance the safety of users, this machine has an inertia-activated chain brake system that turns the saw off in case of sudden jerking motions. This, however, does not excuse you from using the necessary safety gear.
Snap to start feature

Designed to handle large and small scope projects

Well-constructed for maximum durability

Ergonomic front handle

Inertia operated chain brake and handguard for extra comfort

Comes full assembled

Best Husqvarna chainsaw for the money
2. Husqvarna 24 Inch 460 Rancher Gas Chainsaw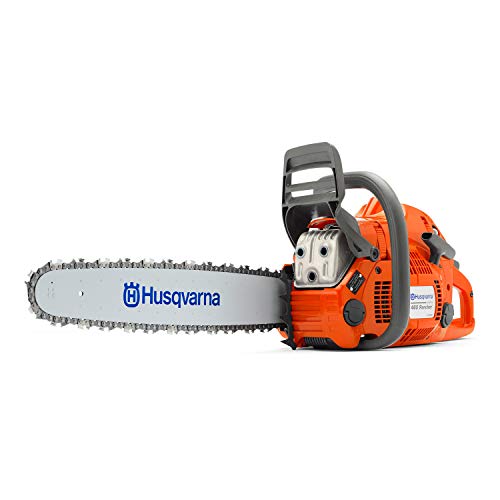 This is yet another outstanding gas-powered chainsaw model from Husqvarna. It is in the Rancher line of products, and this means it features Husqvarna's X-Torq engine that is designed to ensure reduced emissions and outstanding fuel efficiency.
The engine is capable of providing 3.68 cubic inch displacement and pumping out 3.62 horsepower. In other words, ample power is delivered for you to drastically reduce the time and energy needed to chop down big trees.
Machines with powerful engines are fantastic. However, they are still not worth it if the starting is unreliable. Fortunately, this model is designed to fire up in a moment's notice. It comes with a choke/stop control feature that reduces the odds of flooding.
Then again, the air purge is quite useful because it removes air within the system for smooth starts. This unit is uniquely designed to have an adjustable oil pump that you can modulate depending on the weather conditions.
You hence don't have to worry about your machine not starting after several pulls of the cord because of unfavorable weather patterns.
Chainsaw vibrations are not just annoying, but they also cause harm to users over time. The Husqvarna 460 Rancher has anti-vibe technology that keeps the rear handle vibration as low as 6.9 m/s², and the front handle vibrations at a mere 3.8 m/s².
This is comfortable to use a chainsaw with a secure grip. Its general balance and ergonomics ensure you have an effortless time cutting flat, straight and uniform planks.
The kickbacks feel quite controlled, and there is no lateral travel at all. In short, if you want the best deal on Husqvarna chainsaws, this is an excellent machine to consider.
X-Torq engine for reduced emissions and better fuel efficiency

Powerful 3.62 HP 60cc engine

Designed for maximum durability

Excellent ergonomics for unmatched performance

Secure grip enhances productivity

Easy to start
Users claim that the oiling system is somewhat complicated
3. Husqvarna 120 Mark II 16 inch Gas Chainsaws
What is the best Husqvarna chainsaw? This is a question I have had to answer more times than I would care to count.
Based on not only my professional perspective but also manufacturer ratings, expert analysis, and customer reviews, the Husqvarna 120 16" definitely stands as one of the best models from the brand.
What makes this tool a darling to many is the simple yet efficient design that makes it ideal for both beginners and professionals. It is lightweight and has a compact design, yet it is packed with a host of features that give it an undeniable edge over the competition.
One of the first things you are likely to notice is that this is an ergonomically designed chainsaw. It weighs only 7.38 pounds, and this greatly assists in reducing hand fatigue.
Additionally, it is one of the safest power tools in the market because it features the throttle lockout switch that eliminates accidental start-up runs.
To further enhance user safety, this tool has a muffler on its front that steers the fumes away from your face. There is also a chain break that deals with kickbacks.
Even though this chainsaw has an automatic inertia release mechanism that activates the chain brake, you can also activate it by thrusting the handguard forward.
Don't get me wrong; this machine does not have those annoying vibrations. However, I could not help but notice that it is noisier than the majority of chainsaws from the brand. It has 100.7 DB sound rated levels, which is somewhat high. You need to use ear muffs during all projects.
Designed for beginners and professionals

Compact and lightweight for enhanced comfort

Comes with numerous safety features, including a chain break

Automatic chain oiling system

Easy starting
4. Husqvarna 16 Inch 435e II Gas Chainsaw
Here's another excellent choice for anyone in search of an all-rounded lightweight chainsaw for use in their farms. This is a semi-professional gasoline-powered tool uniquely designed for the handy homeowners. It is an updated version of the Husqvarna 435, and it has some exciting perks to offer.
What does this new e-series model have to offer?
First, it features a 40.9 cc gas-powered X-Torq engine for enhanced fuel efficiency, reduced emissions, and excellent overall performance. This engine is capable of delivering 2.2 horsepower at 1.6 kW.
Then again, its maximum speed output is at an outstanding 9,000 RPM and 2900 revolutions per minute minimum speed.
This is a relatively compact machine with plenty of muscle to take on all kinds of light-duty cutting tasks. It is just the workhorse you need when felling dead trees and chopping piles of firewood.
What makes it a perfect choice for most people is that it features the SmartStart technology that reduces cord resistance by 40%.
The handling is also quite easy because this is a tool designed with the user's safety and comfort in mind. There is a solid front wrap handle that is ergonomically designed to feel comfortable in hand. Better still, the rear handle has a soft inlay for enhanced comfort.
This chainsaw has anti-vibration dampeners thanks to Husqvarna's LowVib technology feature. It helps in reducing operator fatigue. Furthermore, the machine also has an inertia chain brake that helps to prevent accidents in case of sudden kickback.
Compared to the 435 version, this equipment has improved cutting power because it features the new X-cut and X-Force bar. This increases cutting efficiency by a fantastic 10% and also helps to simplify maintenance while increasing productivity.
Entry-level chainsaw ideal for beginners

Robust construction for maximum durability

Ergonomic handles for better comfort

Easy and quick starts

Low vibrations

Enhanced cutting efficiency
5. Husqvarna 18 Inch 445e II Gas Chainsaw
Every homeowner can make their life so much easier by having a reliable gas-powered chainsaw. The Husqvarna 445e is a vital power tool that can come in handy when keeping things neat within your property.
It is designed for chopping fireweed during the winter and can help to simplify preventative maintenance tasks like tree trimming.
Among the key reasons why this model is selling like hotcakes is that it has a host of features. These features work together to ensure a reduced risk of injuries, easy starting, and a generally enjoyable working experience.
First, this unit has a blended start and stop switch and fuel pump. This makes starting a breeze because the Smart Start technology ensures that the engine and starter kick into action swiftly and with minimum effort.
Then again, there is the choke and stop control that further simplifies the starting and stopping of the tool. The air injection system, on the other hand, makes cutting wood less messy by protecting the air filters from potential clogging.
This not only makes maintenance easier but also prolongs the life span of the engine.
For most people, ensuring proper tensioning of the chain is a real hassle. With this tool, however, the side mounded tension mechanism makes everything so much easier. It allows swift adjusting of the chain using one hand as you hold your chainsaw with the other.
Other outstanding features that make this machine worth it include the transparent fuel indicator, X-Torq engine for enhanced fuel efficiency, and LowVib technology for reduced vibrations and more comfortable handling.
Robust construction for extended durability

Easy to start

Ideal for a range of light-duty tasks

Comes with a host of features for enhanced overall performance

Designed for comfortable handling over long periods

Easy adjustments of chain tension
Not enough power for cutting through hardwoods
6. Husqvarna 120 Mark II 14 in. Gas Chainsaw
For homeowners in need of top quality gas-powered chainsaws from a reputable brand, it makes sense to consider the Husqvarna 120 Mark 14".
This is a beast that delivers plenty of power to handle day to day tasks with minimal effort. It has a user-friendly design, and this makes it a highly efficient cutting tool for beginners.
Without debate, this is a visually appealing chainsaw made from metal and hard injection-molded plastic. It weighs 10.7 pounds and is hence lightweight enough to use when pruning or chopping firewood for hours on end.
Better still, it has an ergonomically designed handle for reduced hand fatigue. It also comes with a throttle trigger that has a handguard for enhanced comfort and safety.
Because this is a tool ideal for home-use, it has a low kickback safety feature and an in-built safety break that lowers the odds of an accident occurring during operations.
This is a 120 2-cycle gas-powered tool so you can expect its performance to be outstanding. It has a 38.2 cc X-Torq engine that does so much more than just reduce emissions and fuel consumption.
This engine can deliver 9000 RPM maximum speed – just what you need to quickly and effortlessly complete large scope projects.
I have a thing for Husqvarna chainsaws because they feature anti-vibration system technology. The reduced vibration intensity makes operation more comfortable and also protects users from the risk of suffering from hand-arm vibration syndrome.
Designed for ease of use (perfect choice for homeowners)

Sturdy, yet compact and lightweight

Has a host of features that make operations safer and more comfortable

Anti-vibration system technology for smoother operations

Outstanding overall performance
No blade protection for easy storage, not even a blade sheath
7. Husqvarna 967256101 16" Corded Electric Chainsaw, 414EL, Orange
As I wrap up my best Husqvarna chainsaws reviews, let's analyze the 414EL electric-powered chainsaw. This is a powerful tool with a 16" bar that is ideal for homeowners and crafts professionals such as electricians and carpenters.
From all the models on my list, this one has the slimmest body. It naturally offers the most maneuverability and ergonomics.
The sleek design of the tool should not fool you. Trust me, this is a rugged machine that is engineered for supreme overall performance and maximum durability. Whether you want to prune your trees, chop down firewood, or cut a big hole through your living room wall, now you can!
This is a considerably heavy tool that is a few grams shy of weighing 12 pounds. Unless you are a huge person, this may seem somewhat cumbersome. Not everyone is designed to carry this much weight for extended hours.
However, the slim design of this model, as well as its 90-degree soft-grip front handle makes working for prolonged hours a breeze. Furthermore, the tool also features anti-vibration dampeners for enhanced comfort during operations.
Numerous other features make the 424EL 120-Volt electric chainsaw a worthy purchase. They include instant starting, an integrated Air Injection cleaning system for enhanced protection from filter clogging, and of course, the convenient tool-less chain tensioning.
Powerful electric chainsaw

Quiet operations make it ideal for indoor use

Anti-vibration dampeners for comfortable operations

90-degree ergonomically designed handle for maximum user comfort

Convenient tool-less chain tensioning

Great value for the price
This is a corded electric chainsaw and is hence not the most ideal for outdoor use
What to Look for Before Buying a Husqvarna Chainsaw?
Without debate, Husqvarna chainsaws are of excellent quality. Even so, you must note a few crucial things for you to find a machine that matches your needs.
Bar Length
The active area of a chainsaw is known as the bar length. Even though the engine plays a crucial role in producing power and ensuring constant cutting speed, it is the bar length that does the cutting.
You must consider the bar length of the equipment you choose because this is what dictates the length of the cut. Consequently, it also determines the size of wood you can slice in one pass. If a tool has a longer bar length, it can chop down large trees with just a few passes.
Different bar lengths are ideal for different kinds of projects. For homeowners who simply need a sturdy chainsaw for light-duty tasks, a tool with a 14-inch bar length would be great.
On the other hand, professional lumberjacks doing heavy-duty work may want to choose a machine that has a bar length of 24 inches or more.
Durability
The durability of a chainsaw is an aspect you cannot afford to underestimate. After all, we all understand that purchasing a chainsaw is not a cheap affair. This is more so the case if your focus is on products from a top-rated brand like Husqvarna.
If you want a tool that can serve you for years on end, consider choosing models that have the most rugged construction. Such machines are engineered to hold up to the abuse allied with felling large trees.
Additionally, you need to check the specs of each component. Make sure that the housing is made of durable materials, and the engine is also designed for maximum durability. I also find it best to choose models that have high-quality metals that make up the chain and bar.
Performance
A well-constructed machine with a suitable bar length will not mean much if its performance is questionable.
Fortunately, the Husqvarna chainsaws tend to excel when it comes to their overall performance. Whether you settle for light or heavy-duty chainsaw from the brand, you can expect it to make all sorts of lumber work effortless.
Several vital aspects dictate the performance of a machine. To begin with, the size of its engine will determine the amount of power generated and the maximum speed a chainsaw can attain.
Additionally, there are features that can impact the ease of use, and by extension, the performance of a chainsaw. For instance, your productivity is determined by the weight of your chainsaw, as well as the design and quality of its handle.
Husqvarna has, over the years, done some serious heavy lifting to enhance the performance of its machines. For instance, a decent number of models, including the ones on my list, have features such as tool-less chain adjustment, auto chain oiling, anti-vibration, and more.
Engine/Motor Size
It is hard to talk about the performance of a chainsaw without mentioning its motor size. The engine size of a gasoline-powered chainsaw is measured in cubic centimeters. Machines with more CC generate more power, although they also tend to be heavier.
If you need a chainsaw for home use, it is adequate to settle for any machine that offers anything between 30cc and 45cc.
The motor power of electric chainsaws is measured in Amps. Electric chainsaws have motors that range from 8-15 Amps. In this case, too, the rules are not different, and the higher the amperage, the greater the power.
Battery-powered chainsaws will, in most instances, have rechargeable Lithium-ion batteries. These batteries are crafted to last for 2-3 years, depending on how frequently you use your machine.
Battery-powered chainsaws are not as powerful as gas-powered or even electric chainsaws. They are, however, easier to operate and perfect for newbies.
To maintain the battery in a pristine state for longer, always recharge it before it goes down to zero. Also, avoid deep charging and instead only charge your battery partially.
Safety
Your safety is always your top priority. When shopping for a top-quality chainsaw, you must never forget that chainsaws are on top of the list of the most dangerous power tools in the world.
Husqvarna chainsaws tick all the right boxes in not just their performance, but also their safety features. Compared to tools from other brands, it is okay to claim that Husqvarna chainsaws are safer to use. Depending on the model you choose, you could enjoy features such as throttle lock, chain brake, anti-kickback chain, emergency stop button, or chain catcher.
You must always wear protective gear when operating a chainsaw. Some of the equipment you need to optimize your safety includes:
Safety glasses
Gloves
Safety pants
Cut-resistant safety boots
Earmuffs
Head protection (hard helmet)
Gas vs. Electric
Similar to a good number of power tools, chainsaws can either be run by electricity or powered by gasoline engines.
Electric chainsaws can be corded or battery powered. They tend to be lighter than their gas-powered counterparts and also require minimal maintenance.
On the other hand, gas-powered chainsaws are real beasts. They can come in handy when handling larger tree felling projects.
Electric machines are best for home use, although professional lumberjacks may want to consider investing in the best gas-powered Husqvarna chainsaws.
Size
Is the size of a chainsaw a vital aspect to consider? If you are asking this question, then the answer is yes. You must take into account the height, length, and width of a machine, mainly if you have limited storage space.
Typically, bigger chainsaws tend to weigh more. This only means that you are likely to be awfully uncomfortable using a big-sized tool, especially if you are a smaller person.
I recommend taking your age and levels of physical fitness into account before you choose the machine to purchase. Consider not just how easy it is to lift a specific tool, but also how comfortable you will be holding and operating it for hours on end.
It is better not to choose a chainsaw whose size is likely to cause hand fatigue. Bear in mind that the risk of mishaps increases anytime you fail to handle your saw correctly.
Warranty
One thing that truly stands out about Husqvarna chainsaws is that they come with an impressive warranty. This is indicative of their unrivaled overall quality.
Husqvarna Chainsaw vs. Stihl Chainsaw
For most people, the first brands that come to mind when the name chainsaw is mentioned are Husqvarna and Stihl. These are by far the most popular chainsaw manufacturers that enjoy international recognition. Their tools deliver unmatched performance and durability.
So, should you settle for a Husqvarna or a Stihl chainsaw?
When it comes to choosing between these two excellent brands, even professional lumberjacks find it challenging to make up their minds. Here are important facts to guide you in your selection.
Husqvarna
Husqvarna was established in 1689. This company has passed the test of time and has, over the decades, taken significant measures to perfect its technologies and tools.
Of course, Husqvarna chainsaw models don't come cheap. They are among the priciest in the current markets. On the bright side, they are also the fastest and most potent heavy-duty machines.
Another vital fact is that Husqvarna brags of a wide selection of chainsaws to suit the needs of diverse users.
Models like the Husqvarna 16 Inch 435e are, for instance, ideal for crafts professionals, while the 414EL electric-powered chainsaw is suitable for household tasks such as pruning bushes and chopping firewood.
Husqvarna Pros
Fastest cutting tools
Husqvarna chainsaw models are super easy to buy online
Bigger fuel tanks for more extended operating time
TORQ technology enhances fuel efficiency while lowering exhaust emissions
An excellent choice for professional loggers
Stihl
Stihl is yet another dominating power tool manufacturer that has been around since 1926. This is a German company that also produces some of the best light and heavy-duty chainsaws in the market.
Even I find myself torn between choosing Husqvarna tools and machines from Stihl. I guess you can settle for chainsaws from either of the brands because they both tend to deliver optimal performance.
The only difference between tools from these two mammoth manufactures is that while Husqvarna chainsaws are more accessible, Stihl machines are only available in select vendors.
Just like Husqvarna, Stihl also has a wide selection of gas-powered, battery-powered, and electric chainsaws. You will have an array of options at your disposal. This assures you of finding something that tickles your fancy, irrespective of your needs.
Stihl Pros
Low-end torque machines, perfect for tough cutting jobs
Smaller fuel tank for easier handling
More pocket-friendly than Husqvarna chainsaws
Chainsaws from the brand require minimal maintenance
An excellent choice for homeowners
Differences and Similarities
Let's dive deeper into the details to better understand the key similarities and differences between products from these two brands.
Efficiency
Let's face it; both Stihl and Husqvarna have the most efficient chainsaws in the market. If you want a machine that can assure you of maximum productivity, you cannot go wrong if you settle for models from either of the brands.
Models from Husqvarna are infused with X-Torq technology. This makes them highly fuel-efficient and also minimizes exhaust emissions.
On the other hand, Stihl chainsaws have impressive features such as the auto-oiler. It keeps the chain automatically lubricated during operations to enhance the efficiency of the tool and also extend its life span.
Handling
One of the prime reasons why Husqvarna and Stihl have risen to international popularity is their ability to use modern technology to make their tools more user-friendly. Machines from both brands happen to be the easiest and most comfortable to use.
Husqvarna tools are designed to minimize hand fatigue. They have the LowVib feature that reduces vibrations for more comfortable handling over long periods. On the other hand, Stihl uses the anti-vibration feature that makes it effortless to work on sensitive cutting tasks.
Power
I did extensive research on Husqvarna power tools. One obvious thing to note is that the brand specialized more in the manufacture of gas-powered chainsaws.
Both Stihl and Husqvarna, however, have a suitable selection of gas, battery, and electric chainsaws.
Ease of Starting
Again, both Husqvarna and Stihl take home the crown when it comes to the manufacture of chainsaws that are engineered to ensure easy starting. Husqvarna uses the Smart Start feature that accelerates starting while Stihl uses Easy2Start technology to provide quick and easy starts.
Verdict
Here's the deal, models from both Husqvarna and Stihl are of top-notch quality. If you cannot find a Husqvarna product that warms your heart, it is perfectly okay to consider models from Stihl.
But, there is no denying that Husqvarna provides the very best gas-powered chainsaws. Models from the brand seem to have the edge over their competitors from all other brands in the market.
Additionally, Husqvarna machines are more widely available and easier to access. The process of purchasing equipment from reputable online merchants is easy and convenient.
Frequently Asked Questions
1. How do I Keep My Husqvarna Chainsaw Sharp?
Even Husqvarna chainsaws require regular sharpening. For the best outcome, consider using the Husqvarna file gauge and avoid filing away too much material. It is also crucial to replace the chain anytime the longest cutting tooth is shorter than 4 millimeters.
2. Does the Chainsaw Bar Need Maintenance?
Yes, it does. Regular maintenance helps to eliminate a range of concerns typically caused by incorrect tensioning of the chain or even inadequate greasing. Because most of the cutting takes place around the underside of the bar, improper maintenance routines can lead to excessive wear of this region.
3. How do I Maintain the Bar?
Chainsaw bar maintenance routines are quite basic. Start by ensuring the guide bar is always turned away when changing the chain because this promotes even tear and wear.
It is also essential to get the guide bar groove cleaned, and don't forget to oil the inlet frequently. Finally, inspect the bar rails regularly and file away any burrs.
4. What is the Ideal Frequency for Lubricating the Chain?
An inadequately lubricated chain can impact the performance of your chainsaw. It can also lead to the premature wear of your machine.
From a professional standpoint, I recommend checking and refilling the chain oil each time you refuel your machine. Use the Husqvarna chain oil because it is designed to provide excellent lubrication and boost the overall performance of your tool.
5. How do I Ensure Proper Chain Tensioning of My Husqvarna Chainsaw?
Proper chain tensioning plays a significant role in enhancing your safety and also protecting your machine from unnecessary damage. Over tightening accelerates the pace of guide bar wear while a loose chain can jump off the bar and cause unwarranted accidents.
To ensure correct tensioning, confirm that the chain is not hanging under the guide bar. It ought to be in contact with the bar guide and, at the same time, allow you to pull it with your hands easily. Only make adjustments to the tension of your chain when it has cooled down completely.
Final Words
Husqvarna is a first-class brand that offers a wide array of chainsaws. These machines differ in their capabilities, weights, features, sizes, and more.
Are you ready to experience the power, performance, and ruggedness of the best Husqvarna chainsaws? Have a look at my list of the 7 top models.
Trust me; you will love these machines!
You might find the following info useful:
Chainsaw Bar & Chain Sizes: How to Measure?
How to Adjust a Chainsaw Carburetor?
List of Woodworking Tools
How Does a Chainsaw Work?
How to Replace and Put a Chain on Chainsaw?
Choose right Bandsaw for your project