If you are on the lookout for the right chain for your chainsaw, then you have to read through our review.
Here, we list ten of the chains you can consider to equip on your powertool.
You have to remember that a chainsaw is not just about the power of the motor. It is also about the chain. Some things you should consider are sharpness, angle of the blades, maintenance, performance and durability.
All these factors are important in determining which chain is right for the job; you will task your chainsaw to do.
Needless to say, for different jobs, you will need a different chain. In this review, we will see which one will fit the job you are looking to accomplish.
| | | | |
| --- | --- | --- | --- |
| | Oregon S62 AdvanceCut 18-Inch | | |
| | | | |
| | | | |
| | Stihl 26RS 81 Rapid Super Chainsaw Chain | | |
| | | | |
9 Best Chainsaw Chain Reviews
Here are the top chains that you can buy in the market today. We will look at each and their features to help you pick the right one or two for your chainsaws.
Something you need to remember, though, although these chains may have a brand, most of them will fit a different brand as long as it is the right chainsaw bar length. But to be sure, before purchasing, see if it will fit your brand of chainsaw to keep you from the hassle of sending it back.
1. Oregon S62 AdvanceCut 18-Inch Chainsaw Chain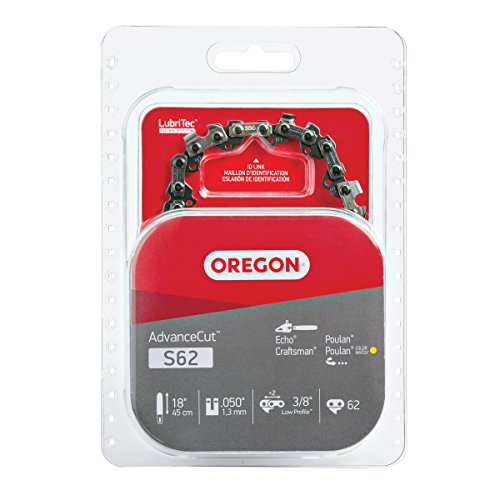 As one of the biggest names in power tools and chainsaws, this chain is among the first ones you should consider.
These are heat treated. This allows the chains to be strong and durable enough to cut through all sorts of woods. It is also reinforced with hard-chrome. Besides, it is designed to have low kickback and to cut smoothly and cleanly. The cutters are designed a tad different from standard chainsaw chains.
Furthermore, the semi-chisel angle of the blades also ensures that you will not sharpen as often as full-chisel types. The slightly slacked angle also makes this chain ideal for homeowners for their basic lawn care and yard work.
This particular set of chain features Oregon's LubriTec Oiling System advanced technology. It keeps the chain well oiled with its unique shape and grooves inside.
People who suffer from the numbness of hands will benefit from the low vibration feature Oregon included in the chain. They claim that it reduces the vibration of the chainsaw by 25%. This is a good chainsaw chain for hardwood.
Due to the chrome-plated cutters, these chains will stay sharp longer than untreated teeth since chrome has a harder surface and has better wear resistance. In addition, they also have hardened rivets for secure chain links.
If you have experience in replacing a chain on your chainsaw, or even if you don't, these will be easy to install and easy to use just by following the instruction on your chainsaw.
The manufacturer says to take note of compatibility issues. They have a hotline, and you can ask them directly there. Also, take note to use this on an 18-inch bar.
Hardened steel and chrome-plated teeth

Efficient oiling system

Minimum kickback design for safety

Minimizes vibration

Good for homeowners and beginners
Limited compatible bars

Not suited for heavy-duty tasks due to semi-chisel angle of the blades
2. Husqvarna Chainsaw Chain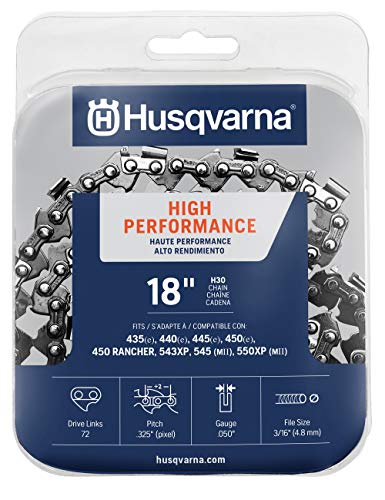 This chain has a low-kickback design that can cut through wood efficiently and cleanly. If your chainsaw of choice is a smaller one, then this will excite you to cut again.
Having this low-kickback and semi-chisel design makes it great for any users. These can be used by individuals of different backgrounds. Whether you cut trees for a living or want to maintain your garden or lawn, this chainsaw will help you fulfill the task ahead of you.
The materials used in this chainsaw chain is commercial grade metal that will cut easily through the wood.
While it is recommended that you use a 38-62cc engine for this type of chain, they made these chains so that the motor will not have to work too hard to cut through the task it is put on to.
The .325 pitch helps in reducing the draw and increasing the turn of the chain, which makes for a smooth cut faster. This is great for most jobs in the home, garden, and even commercially.
A smaller bar on a chainsaw naturally has more RPM compared to a longer bar. With this type of chain on it, it will definitely cut more and finish the job quickly.
It also has a low-vibration feature that will help anyone with nerve problems with their hands operate the chainsaw longer and lessen the fatigue when using the power tool for long periods of time.
But with small teeth like these ones, the chainsaw may experience a little difficulty when cutting through dried hardwood. This is because it is not equipped with the right set of teeth to cut deep into the log.
Beginner to novice chainsaw, users will appreciate the various features it has.
Low-kickback safety feature

Cuts through wood faster and smoothly

Low-vibration design

Helps the motor save more energy by reducing drag
May easily wear out if used on large hardwoods
3. Sun Joe Oregon 8-Inch Semi Chisel Pole Chainsaw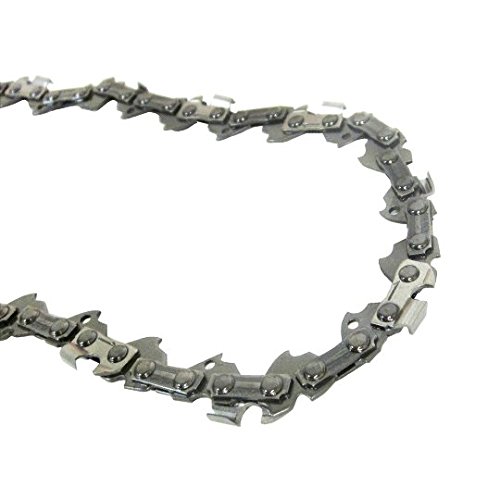 If you're wondering why this chain is a little less than half of the previous chain in this review, this is because it is designed for pole saws.
Pole saws are special tools that go where regular chainsaws cannot go. These are safe to use and easy to operate. They have a pole that extends from 10 to 20 feet high, allowing the user to reach trees of that height.
As opposed to climbing a ladder and using a regular 18-inch or a massive 24-inch chainsaw to cut branches and limbs, you can opt for a shorter and smaller one that has an 8-inch cutting chain.
Some pole saws come in 2-in1 configuration, meaning you can remove the pole attachment and use it as a regular mini-sized chainsaw for garden and lawn care. This is designed for the same brand pole chainsaws.
It has a unique cutter shape that helps reduce kickback, which is vital when you're cutting wood and branches 10 to 20 feet high.
The low 3/8 inch profile helps cut the wood efficiently and quickly without wobbling all over the place to keep the pole saw in place and always on the wood it is cutting.
You can let the weight of the pole saw do the cutting, so that you can be safer and reduce the stress on the chainsaw itself.
Best for pole saws

The low profile prevents kickback and helps cut faster

Lightweight and serves well as a backup chain

Has many safety features to protect the user from accidents
Only fits specified pole chainsaws
4. Stihl Rapid Super Chainsaw Chain
The length of this chain will help you cut through bigger logs and wood more efficiently.
Pitch size maybe .325, but it cuts like a full-chisel type. The sharp cutters allow the chainsaw to bite into bigger chunks of wood to help finish the cutting job faster.
These chains stay sharp longer than other competition owing to the material they used. You can cut through oak and maple-like butter when you equip your chainsaw with these chains.
This is designed to cut fast, which is why the user must be aware of some instances of kickback. Even though it has a low profile, the power to speed ratio leans more to the power side, so make sure to have a firm hold on your chainsaw when equipped with these chains.
You can easily sharpen these chains if they need a touch-up. The materials are capable of sharpening so that you can retain the edge for longer.
All those features, but they still managed to keep the price fairly on the cheap. So if you want to get more bang for your buck, these chains will deliver well.
Just make sure to use these chains on the right bar with the appropriate gauge and size.
Always remember to wear proper equipment when operating a chainsaw, and when equipped with this particular chain because of the way the teeth are positioned, they will bite into the wood more and thus can cause an unintentional kickback.
Overall, this is a good set of chains for anyone who is looking to save a little money for their new chain.
Cheaper alternative if you want sharp teeth for a 20-inch bar length

Sharp and quick cutter

Can cut through big logs

Lasts a long time
5. Trilink Saw Chain
Cut fast and smooth with these chains. They are chrome plated that was designed to reinforce and strengthen the cutters so that they stay sharper longer.
This chain fits many brands like Husqvarna, Craftsman, Echo, Homelite, McCulloch, Poulan, and many others. They have specified the compatible brands in the back of the packaging. That's a convenient place for crucial information.
The chain has a low-kickback design that's going to save you from any accidental cuts and slashes. But, a word of caution, even if chains have anti-kickback properties, always wear protective gear when operating power tools.
Centri-Lube feature enhances the chain life and makes this chain rust-resistant. These give the chain more performance and low maintenance. The oil flows from the drive links to the rivets, ensuring proper lubrication throughout the chain.
In addition to making the chain maintenance-free, it also helps reduce friction between the chain and bar. It also reduces the amount of tension adjustment to the chain.
Even with the semi-chiseled type of cutters, it still cuts aggressively and effectively in many situations. Thus, you may want to keep this for other jobs if you want smooth and clear cuts on trees and branches.
But nevertheless, you can use this chain for both commercial and residential use. They will perform well in any situation that needs cutting, limbing, and garden maintenance. This can also be a great chainsaw chain for hardwood.
Speaking of maintenance, although you may not need to oil the chain every now and then, it will be a good idea to have them sharpened when they seem to cut slower or perform less than when they were brand new.
These also cost a little less than most brands so they are a good option for anyone who wants to save a few bucks.
Centri-lube feature allows for lubrication throughout the chain

Rust resistant

Fast and aggressive cutters

Cost a little less than most brands
May dull faster if used on seasoned logs and timber
6. Greenworks 8-Inch Replacement Pole Saw Chain
When using a pole saw, it is a good idea to stock up on a backup chain because of its short size. Make sure you have one, especially if you have a Greenworks pole saw at hand.
This 8-inch chain has the right amount of slack on the cutters to reduce vibration and kickback when you're cutting through branches about ten to twenty feet high.
If you see that you need to trim a lot of branches for the season, get a backup so that you don't need to run to the store to get it sharpened if it becomes dull.
The standard size of the cutters allows it to bite into many types of wood. But you can't expect it to fell trees because of the size. That being said, it can perform great on any small wood or branches that need trimming.
It is the best choice if you are looking for a chain to help you with lawn care and garden maintenance.
Beginners and novice chainsaw users can appreciate the lightweight feel of the chainsaw as well as the low vibration feature of this chain. They can easily operate this without worrying too much about big kickbacks and the chainsaw getting out of control.
Sharp cutting teeth

Perfect replacement chain for a pole saw

Easy to install

Great for beginners and novices
Maybe brand-specific when it comes to compatibility
7. Black & Decker 10-inch Replacement Chain
These chains come pre-stretched, meaning they are good to go out of the packaging. They also boast of longer life than the chain they are replacing on your Black & Decker 10-inch chainsaw.
And that is just the icing on the cake. They are made from reinforced steel, making them small and terrific for any small jobs. Take on any job easily with these chains. They are ideal for cutting firewood and limbing trees. The semi-chisel cutters are also great for general yard work and garden maintenance.
It is generally known that it is harder to find replacements for shorter bars, so stocking up on a replacement is a good idea for anyone who owns a particularly short chainsaw. Even in storage, these will stay sharp and will be ready to use when called to service.
For inexperienced chainsaw users, they will find the maneuverability of smaller chainsaws a pleasure and a learning route. They will not need to adjust a lot because smaller ones tend to be more limber and accurate.
Semi-chiseled cutters prevent kickback and offer a low vibration rate that helps anyone who needs to cut wood. Individuals with nerve problems in their hands will find this feature to be helpful for them when operating the chainsaw for quite some time.
Take note that this will not fit chainsaw with bars longer or shorter than 10 inches and with the specified gauge so be sure to know if it will fit your chainsaw before purchasing.
Comes pre-stretched so that it's ready to use out of the package

Sharp and fast cutter

Great for lawn care and yard work

Beginners and inexperienced individuals can appreciate the low kickback design
Will only fit Black and Decker 10-inch chainsaws
8. SUNGATOR 16-Inch Chainsaw Chain
This is, you can say, an international competitor among the chains reviewed here. It is made from imported steel from Germany, and it has a lot more to offer.
Since the components are from Germany, this has tough and has anti-fracture properties that make it a good choice partner for your chainsaw, especially if you need to cut tough wood.
In manufacturing, it was heat-treated to give its cutters durability in any tasks. Not only was it heat-treated, the components like the rivets were also quenched, which gives them hardness like no other.
Further strengthening the chains is the plating of the components in hard chrome. Suffice to say; it will take more than brute strength to break these.
With a strong chain like this, they made sure that you did not injure yourself when using them. They have a low-kickback design that protects the user from any untoward incident.
Its cutters are semi-chisel types. That means they are more tolerant of dust and foreign materials aside from wood. This allows the cutters to last longer and stay sharper.
The chain is rust-resistant thanks to the hard chrome and the anti-rust oil covering. And for people who have nerve issues in their hands, they can appreciate the low-vibration feature they put in these chains.
It lists a lot of compatible chainsaws, so just make sure that your chainsaw is part of the list before purchasing.
Heat tempered and quenched metal parts make this a strong chain

Rust-resistant feature

Imported components

Low kickback and low vibration design
Can't cut through really hard wood fast enough
9. Tallox 14-inch Chainsaw Chains
If you are looking for a replacement chain, these will fit the bill. They are made from high-strength German steel that allows for fast and efficient cutting.
These are great for lightweight chainsaws. But they are also able to cut through bigger sized wood.
The semi-chisel cutters bite through the wood in any weather. This is because it balances between performance and stability. So, even if you are cutting through wet wood, it can still cut through without much difficulty.
Sharp out of the box, they can help you whether you are gardening, limbing, maintaining the foliage, or even cutting down firewood for the winter.
They have reinforced rivets to make sure that they don't snap accidentally. The links are made from hardened steel, which helps in the performance and durability, as well as the life of the cutters.
Probably the best thing about these is their price. They cost a lot less than most branded chains but perform just as well.
As for the fit, you can find that these easily fit most chainsaw bars. But to be sure, you have to always look at the manufacturer's information if your chainsaw can equip these.
Sharp out of the box

Can fit most chainsaw brands

Low price

Can work in any weather
May dull fast if used on heavier tasks
Different Types of Chainsaw Chains
There are some factors that play when considering the type of chainsaw chains. It is good to familiarize yourself with these things so that you know which ones will work well for your chainsaw.
These factors are not just so that each chain will be different from the others, but rather, they all have different functionalities for various types of jobs. Some features and differences will work best for heavier types of work, and some will work just as fine for any setting.
The types of chainsaw can differ from their cutting teeth, chain arrangements, their pitch, and gauge. In this section of the article, we will distinguish the most common types, which will provide you with the knowledge to choose the best one for your chainsaw and the task for you.
There are different combinations of each chain. So we will put them together in general categories in this chainsaw chain reviews: by cutter shape and chain sequence.
Cutter Shape
This is essentially the angle which the cutter is leaning to.
When considering a cutter shape, you need to look at your level of expertise because this is going to be crucial. The way the teeth bite into the wood affects the handling of the chainsaw.
A steep angle will bite more, so a kickback from the power tool is more likely than a moderately angled one.
For safety, make sure to pick the one that you know you can handle well.
You also need to look at how often you are willing to have the blades sharpened as these come into play when using the chainsaw often. Full chisel cutters may require more maintenance than more slack angled chains.
Each angle has different characteristics and cutting style, which we will discuss below.
Full Chisel Cutters
The best way to know if you have full chisel cutters is to see if they are square cornered. This form makes the cutter more aggressive, which means they cut faster and faster than most chains.
But since they are more aggressive, the downside is they tend to dull faster compared to the other types.
You have to also be aware that these types of chains have a higher risk of kickbacks because square-cornered cutters bite more into the wood.
Having a more aggressive angle, you will need to know when to sharpen the blades. Some blades have marks that show when the lifespan of the blade has expired and is beyond sharpening. When it reaches this stage, it is time to get a new set of chains.
Due to the nature of these blades, these are more suited for professionals and experienced users and are the best chainsaw chains for hardwood.
Semi-Chisel Cutters
These cutters have a rounder shape. Compared to the full-chisel cutters, they are better used when cutting tougher wood and in conditions that may dull and blunt blades faster.
The rounded nature of the cutters allows for a safer operation because of a lower chance of a kickback. While it may cut slower than a full chisel cutter, it will no doubt do the same job.
On the upside, it can cut easily even in dirty conditions and longer since you won't have to sharpen them as often as full-chisel ones.
Micro-Chisel Cutters
These are the most common types of chisels on chains. They are virtually available anywhere.
The shape is more like the semi-chisel types and is sometimes rounded because they have a unique cutter design for the safety of the user. Suffice to say that these are ideal for beginners who have little to no experience with chainsaws.
While balanced, these will still need to be sharpened when they become dull. The proper understanding of when and how to sharpen your chain will help keep your chainsaw in good condition and cutting just fine.
Micro-chisel cutters can handle most woods but are not capable of handling high-speed like full-chisel types. If you need more precision cuts for woods, then this is your best choice.
Chain Sequence
The sequence is the distance between the left and right cutters in the chain. Each of the distances varies for different purposes. It also makes a difference in safety and the efficiency of a chainsaw.
Moreover, the following are the general types you can see in many chains. Consider each one carefully for what job you are going to accomplish and the level of experience you possess.
Full Skip Chain
This type is the most efficient arrangement as far as woodcutting is concerned.
When the chain has full skip, it tends to have fewer teeth but will result in a longer chain, thus the need for a large bar. Most of the time, they will need a 24-inch chainsaw bar or more.
Due to the fast operating speed, they will cut faster and more efficiently. Any type of wood, regardless of the size, will easily be cut.
But you have to keep in mind that this will not cut cleanly so you can't really use it for a precision cutting job. It will, however, do well when you're cutting firewood, limbing, logging, and other tasks that don't need a delicate touch.
Semi-Skip Chain
As the name says, it is a mid-grade chain arrangement, meaning they have one or two links in between the cutters.
While they do not cut as fast as a full skip chain, they still possess almost the same power, but not just as fast.
The main thing you will get from this type of chain is smoother and more even cutting throughout the wood. So you can expect finer wood chips and sawdust from this chain.
Standard Chain
This type of chain cuts the smoothest but also the slowest compared to the first two mentioned here. It is well suited for jobs that require precision cuts like cutting timber or building a house.
If you look at the arrangement, the teeth are closer to one another, which allows for a smoother cut. And because the chain is full of teeth, hence the other term "full house," it requires a 24-inch bar or more.
Chain Specification Terms You Should Know
There are some frequently used terms, which are worth mentioning for your consideration.
Pitch
This means the distance between any three consecutive rivulets on the chain – these are the studs that hold the chain together.
The main thing that should concern you about this is that your bar should have the same pitch stamped on the chain.
Gauge
Gauge is the amount of groove in the bar that the chain fits in. Basically, you want these to be the same as the slight difference will lead to a poor performance from your chainsaw.
What is the best chainsaw chain? In conclusion, different types of chains require different sets of attention because of the tasks they specialize in. The most important thing is to arm yourself with ample and proper knowledge before operating a chainsaw or any other power tool for your safety and for the efficiency of the tool.
There is no substitute for the right attitude towards power tools. Treat them right, and they will treat you back just as well.
Chainsaw Chain Buying Guide for Newbies
Needless to say, buying a replacement chain or backup chain is a little bit more complex than expected.
There are many things that a buyer must consider before purchasing one for their chainsaw. Don't get hung on brands. The technical aspects like the ones we listed below are important in choosing the right chain for your tool.
Like what they say, measure twice, cut once. In this instance, double-check the specifications of your chainsaw, bar length, and gauge so that you can be sure when you want to purchase a chain.
Here are some considerations for you before buying your first chainsaw chain.
What Job Do You Want to Do?
Will you cut firewood or hardwood? These may be simple questions, but they are the foundation for a good choice of chain for you.
If you cut hardwood, better check if the chain you are looking to purchase has self-lubricating properties because hardwood tends to drag your chain. Continuous lubrication will help deter this. Without lubrication, the teeth dull more rapidly and are prone to kickbacks.
And if you are cutting firewood, although it will also be a good idea to get a self-lubricating chain, something cheaper may be a better idea. Self-lubricating chains have a tendency to be more expensive. So just go the practical route in this choice.
Also, look for a chain that's easy to sharpen because you won't want to spend extra buying another set of chains, which you will just use once a year or just on occasion.
How Long Will a Chain Last?
While this is a rather difficult question to answer, you can get approximate on how long it will last by how you use and treat it.
Of course, manufacturers will say that their chains are long-lasting, but most of the time, the way you use them plays a big factor in determining how long it lasts.
For example, if you are felling a big tree, it will help save your chainsaw teeth if you remove the bark first before cutting into the tree as tree bark tends to dull the blades faster.
Also, hitting other materials like rocks, dirt, or metal, can easily dull or even break a cutter, resulting in the shortening of its life.
Sharpening is also one of the main ways you can either prolong a chain's life. You can give it a second life by sharpening it after some usage, but being made with metal, it can only get grinded down for so much.
Eventually, when you run out of metal to grind, it's time to ditch it and find a replacement.
So, it is best to know when it is time to sharpen it. Some chains have an indicator when to sharpen it and up to when it can be sharpened still. Familiarizing yourself with these things will help not just in the life of the blades but with their sharpness as well.
Know the Numbers
A chainsaw typically has guide measurements that help you determine the replacement parts you need for it. These include the pitch, gauge, and the number of drive links.
Pitch is the distance between links and is given in some fraction of an inch. The general measurements are 1/4", .325", 3/8", and .404". To interpret these is simply the lower the number, the faster the chain will spin.
Gauge is the measurement of how thick the links are. The typical sizes are .043", .050", .058", or .063". These are usually found stamped on the guide bar or printed on the user manual.
Drive links are measured by the number they are in series. Since there is a variety in height, the number of links will also vary. In case you don't find it stamped on the guide bar, you will find the required number of links on your user manual. If not, simply count the number of links that are on your old chain.
Overall, keep these in mind when you are buying a replacement chain for your chainsaw to relieve you of the hassle of sending back your order because it is an inch short of your bar.
How Tight Should Chainsaw Chain Be?
Proper tension for your chain is necessary for a good clean, and safe chainsaw operation.
Without the proper tensioning, it will perform less than desired and may even lead to damage to your motor, and in some instances, injury.
So, it goes to show that it is important to have the right tension for your chain to get precision cutting performance. However, there is no formula for the right chain tension. It does boil down to personal preference.
But the main thing to consider is a general rule for each task: don't go to extremes when tightening or loosening the chain.
You know you have a loose chain when you have slanted cuts on the wood you are working on. This is because the chain is going on and off the guide bar as you press the chain into the wood. And this is a bad indication and may result in the snapping of your chain.
If the tension is too tight, then you will wear out the sprocket and the guide bar quickly and may break the chainsaw. You will also consume your bar oil much faster. Lastly, the chainsaw clutch and bearings may get damaged when you start your chainsaw.
Even if the chainsaw is built for tough jobs, it still needs proper attention, especially when setting up the right chain tension for it to work best.
Or you can also check the article: How to Replace and Put a Chain on Chainsaw?
Frequently Asked Questions
1. How do I Know if the Chain Fits My Chainsaw?
The manufacturers of the chainsaw and chains usually put marks and critical information on the instruction manual or on the machine itself.
There are many things to consider, like the number of drive links, the gauge, pitch, etc. All that information is either printed or stamped. If this is missing, it is best to call their customer service.
2. How do I Adjust the Chain Tension?
Chain tension is important in operating your chainsaw. Each chainsaw has a different way. Some need separate tools while some have built-in tensioners. Still, some have advanced technology like automatic tensioners. Please refer to your operation manual for what your chainsaw has.
3. Should I sharpen My Chain or Replace It Entirely?
You can inspect the chain visually to determine if they can still be sharpened or need to be replaced.
4. Why does My Brand New Chain Not Cut?
If it is not a factory defect, check if you have installed the chain properly on your chainsaw.
5. What is the Best Brand for My Chainsaw?
While it is encouraged to use the same brand as your chainsaw for your chains, you can check the manufacturer's information if the chain will fit yours even if it's a different brand.
Final Words
Chains are a vital component in your chainsaw. It is, after all, one of the main reasons why you are able to cut through wood and get the job done. While there are other chainsaw chain reviews out there, we hope you got a lot of good information here.
Take a good look at the compatibility of your chainsaw with the chain you are looking to buy so that you can use the chain after you have received it.
You might be interested for these topics too:
How to Untangle a Chainsaw Chain?
Chainsaw Bar & Chain Sizes: How to Measure?